Protecting the first line of defenders
- Wits University
"Wits has a very dynamic community. Every day is Day One at Wits."
John Sibisi, Deputy Director of Security Operations in the Department of Protection Services (DPS), is a familiar face on campus and is often spotted with security staff at the Braamfontein campus or having a casual chat with a Witsie.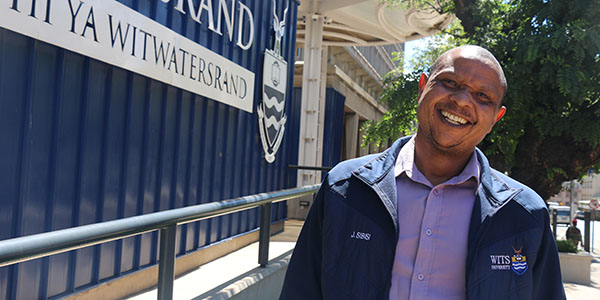 As one of the leaders responsibe for safety on campus, Sibisi is accustomed to dealing with physical security threats and mitigating crises. However, Covid-19 presented a different threat to security staff – while most of the Wits population moved to online, secutiry staff had to be present on campus to ensure that the University's valuable property and assets stay safe at all times.
At the onset of the Covid-19 pandemic, Sibisi acted fast and collaborated with CPS managers and supervisors to protectthe safety of the University's first line of defence. Security personnel are the first people encountered before accessing the University. Their job places them at a higher risk than most people, due to the number of interactions a day and human attitudes.
Educating the team of approximately 640 CPS staff members about the prevention measures to protect themselves ensured that there were zero Covid-19 infections in Sibisi's department – a huge achievement despite the aggressive spread of the virus. The past months have also involved hours of interactions with staff, students, suppliers, and contractors, which often stretched into after-hours.
In light of this, Sibisi was nominated as a Wits Covid-19 Hero for upholding the wellbeing of 'vulnerable and exposed' workers, and building relationships and understanding under difficult conditions.
Eric Gaba, a member of the Crime Prevention and Response Team, wrote that Sibisi "structured the operations and monitored us on a timely basis. He is my hero."
Notwithstanding the uncertainty surrounding the pandemic, Sibisi brought stability to teams as he supported them in dealing with difficult questions and challenges.
The past months have been tumultuous but provided insights into human behaviour and needs, says Sibisi. "I have learnt that in uncertain times, people tend to panic – irrespective of class, race, gender, social status. Even professionals needed to be taught by the security officials on compliance with Covid-19 regulations, as adjusted from time to time.
With Protection Services being vital, Sibisi highlights that working with an array of staff members on different shift schedules, and engaging with shift staff, are fascinating aspects as there is never a dull moment.
The democratic nature of the University also makes Wits an invigorating space to work, says Sibisi.
"Wits has a very dynamic community. It is always difficult to please everyone. Every day is Day One at Wits,"says Sibisi, who has worked at the University since 2017 and has seen his share of events characteristic of a robust environment such as Wits.
The past year has also been somber and presented moments for reflection. Sibisi lost close co-workers from other departments at Wits and friends to Covid-19 which has made him grateful for what he has. "I have learned to value each and every day of my life. I am blessed knowing I have a job under such difficult circumstances, and I can provide for my family," he says.
The nomination as a Wits Covid-19 Hero has humbled Sibisi who states that, "it would not have been possible without the support of Wits management and colleagues."
He is optimistic that 2022 will be a great year. It may be packed with challenges but Sibisi is fully prepared to face them head-on.
About Wits Covid-19 Heroes
The Wits Heroes Series celebrates staff and students who went beyond the call of duty at the onset of Covid-19 in 2020. Wits Heroes were nominated by members of the Wits community. Discover other Heroes.