Lego blocks and pasta trigger dentistry students
- Wits University
If you think that macaroni, spaghetti and lego blocks only excite preschoolers then you'd be shocked to discover that these also stimulate university students.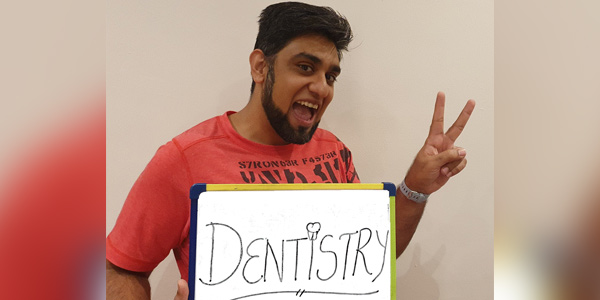 Dentistry students have been propelled to success with these items all thanks to the unconventional methods of Dr Ebrahim Patel.
Patel is known for thinking out of the box. When the dental simulation laboratory closed in 2020 due to Covid-19, his mind was filled with ideas on how to help students grasp and visualise key dental concepts and procedures from home.
Amused first year students thought they were getting a cooking class, using spaghetti and macaroni, but this turned out to be a class about manual dexterity and depth perception. For second year students, what they assumed would be a DIY class with lego and wooden blocks, coupled with mops and broomsticks was a practical lesson to teach root canal treatment.
The creative approach of Patel who is the Head of Preclinical Teaching in Operative Dentistry and Endodontics at the Wits School of Oral Health Sciences, bore fruit in 2020 when he achieved a 100% pass rate in his class of second year students.
For his commitment, innovation and support of students and staff in the School, Patel was nominated as a Wits Hero in recognition of going beyond the call of duty when Covid-19 disrupted teaching and learning.
Patel confesses that these ideas come unexpectedly to him.
"If I had to be brutally honest, most of my ideas would come to me in the shower on the day of a particular tutorial. I would then think of creative ways to stimulate student engagement to ultimately achieve deeper learning for that day," he says.
During this period he, together with Wits colleagues and friends Dr Krystle Moodley, Dr Megna Gangadin and Dr Ruan Scheepers and the Wits MOOC team, created the free "Root Canal Preparation" course which was available on EdX, which hosts massive open online courses. This also included a game about a vegan vampire with creative input from Adriano Giovanelli (CLTD) and the team led by Dominique Wooldridge.
While collaboration helps him achieve his goals, competition keeps him on his toes.
"My wife, Rubina Shaikh, is the first year Pharmacy coordinator [at Wits] and, I think that stimulates a little bit of competition between us. We are both type-A personalities and as such like to show off what we can achieve with our students," says Patel whose class pass rate has been above 90% since 2017.
How it all started
As a young boy in primary school, Patel recalls telling his parents about his ambitions to pursue a career in health sciences. In 2004 he began his journey at Wits University as a first-year student determined to follow through and make his dream a reality.
"Believe it or not, medicine was actually something that I had always thought I would go into, but as I shadowed clinicians at the Chris Hani Baragwanath Hospital, I decided against it, and thought that I would rather give Dentistry a go."
He made the switch and didn't immediately feel confident about his switch.
"In the first two years of school, I thought I didn't make the right decision but this changed the first time I walked into the clinic. I knew then and there that this is what I wanted. My first patient experience ignited a love for dentistry that burns brighter with every passing day," he says.
Patel discovered his love for lecturing after observing Professors Joy Shackleton and Sidney Setzer, who later became his colleagues. He decided soon after that he wanted to combine his love for dentistry and lecturing and mold young minds
"The way that they (Shackleton and Setzer) engaged with students, it just seemed so fulfilling, and I absolutely loved it," says Patel.
"Teaching has been such an amazing journey for me. Just dealing with students from different backgrounds and getting to appreciate how different people learn and seeing the development of a student's skills."
After nine years as a full-time academic at the university, Patel believes that the coronavirus pandemic has introduced a much-needed change to the health sciences faculty. He says it has forced the faculty to embrace technology and participate in the fourth industrial revolution.
"I don't think we'll ever go back to the old ways. Students have enjoyed the benefits of the new teaching methods, and lecturers have witnessed the possibilities and the advantages of new blended approaches. I think we're going to grow from strength to strength."
Patel says the support he receives from his wife, and his colleagues at the university keep him determined to strive for excellence.
"I am lucky to work in a very supportive department. My close circle of friends, fondly known as KREAM help stimulate me to always do my best. As we like to say – KREAM work makes the dream work," concludes the teeth man.