Law Clinic brings hope even under hard conditions
- Wits University
Hundreds of legal clients in just months underscores the desperation of the indigent even during lockdown.
Like much of the country, Wits campuses were forced to lock up as hard lockdowns were imposed in March 2020. But it didn't end the need of those with nowhere to turn for legal assistance.
It hit home hard for Daven Dass, Director of the Wits Law Clinic in the early weeks of lockdown as he was driving along Jorissen Street. He says: "I remember that I would see old people, or those with small children in tow, walking away from the campus and I knew that they were people looking to get to the Wits Law Clinic for help but were being turned away at security because no one was allowed on campus."
As the weeks passed Dass came up with a simple but effective way to stay connected with these people. He drew up a basic questionnaire for people to complete and leave at security desks. These questionnaires would be collected by candidate legal practitioners and telephonic consultations were subsequently held with those most in need of legal assistance.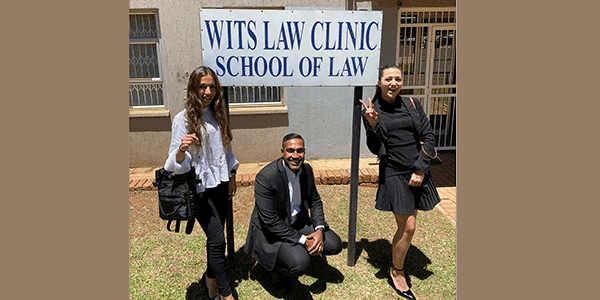 The Clinic, which is accredited by the Legal Practice Council as a legal practice, forms a vital part of the compulsory experiential training for final year law students, in the form Practical Legal Studies. So Dass says it was essential to make the Clinic Covid compliant and to have rotational schedules to keep clients, staff and students safe at all times when they targeted a May 2020 date to re-start professional operations, whilst simultaneously attending to students in the on-line environment
The Clinic became one of the first units on campus to draw up and get occupation health and safety approval for a comprehensive Covid-19 protocol, including having PPE, sanitisers and protective screens available alongside a rotational rosters to limit the number of people on site and stable online connectivity to continue with training and teaching when students were off campus.
Dass says the online teaching and learning experiences brought into sharp focus the reality of different needs and home lives of their different students. Some students lived in shared spaces with many other family members; some ran out of data or prepaid electricity and other basics before they could complete a lesson.
"It was an eye-opener but also a reminder to see each other as human beings first. It called for empathy and mindfulness that people may carry heavier burdens that are sometimes not immediately obvious in ordinary campus interactions," Dass.
There were similar realisations in reckoning with the fact that Covid-19 and lockdowns had – and still does - make tough situations even tougher for the most vulnerable in society.
"We realised the need was enormous when nearly 800 questionnaires were filled out during just five months. It was mostly people who needed help in family court, with contractual issues around outstanding debts, job dismissals and eviction – it speaks to some desperate situations.
"We also realised that it was imperative that we find ways to stay operational safely because other legal aid centres and services in the city were not able to re-open through the early parts of lockdown," he says.
Feedback from the students of the Clinic was of gratitude and relief that even in a Covid-altered work they were able to continue their training. In addition, some students reflected on gaining a deeper understanding of the impact of Covid on their clients' lives and its consequences that will linger even when they enter the field of practice.
"Students said they felt that being able to come back to the clinic and to consult with clients helped them to feel better prepared and helped them improve their professional communication skills. They also appreciated more the social value of law," Dass.
He attributed the successful implementation of the questionnaires and the resumption of the Clinic practice to the amazing staff members of the Clinic, who he describes not as a unit nor a team but rather as a Clinic family. The phenomenal staff continue not only to epitomise the spirit of Ubuntu and are committed to the values of being the change they want to see in the world, but for embodying the notion of Wits for Good.
About Wits Covid-19 Heroes
The Wits Heroes Series celebrates staff and students who went beyond the call of duty at the onset of Covid-19 in 2020. Wits Heroes were nominated by members of the Wits community. Discover other Heroes.