Keeping the lights on
- Veshnee Naidoo
Jeandre Hazelhurst surprised by Wits Covid-19 Hero nomination
Hazelhurst began his career at Wits in January 2017 as a Technical Supervisor at the Property and Infrastructure Management Department of the University. In the first two years, he was responsible for overseeing requests from residences. He was later relocated to the Faculty of Health Sciences in February 2019 where he where he oversees maintenance and repairs. This combined experience exposed him to the needs of staff and students in their domains.
To his surprise, Hazelhurst was nominated by colleagues as a Wits Covid-19 hero for going the extra mile to provide technical services to departments during the lockdown, including Level 5 when the campus was primarily open to the health sciences community and protection services personnel.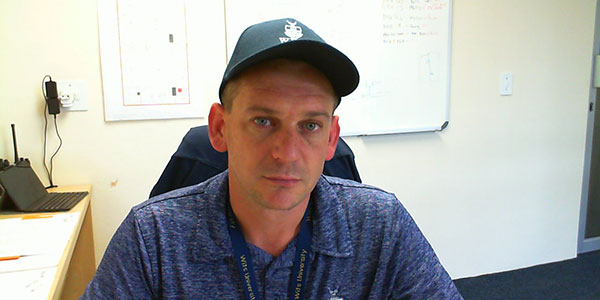 During the different Covid-19 lockdown restrictions, the Faculty was operational, and the lights had to remain on for the staff and students supporting national health efforts against the virus and other health needs. As the Supervisor, he ensured that his team attended to various building and maintenance issues such as water leaks and blockages, tripped electrical plugs, non-functioning lights, and ventilation issues. According to Hazelhurst, maintenance is a daily task that must be completed to keep the building operational, delays and neglect of the infrastructure can have serious repercussions on life and productivity.
Hazelhurst admits that he experienced a bit of difficulty at times with motivating his team to maintain performance levels while other members of the University were working from home. However, Hazelhurst motivated his team to persevere and timeously complete assigned tasks. The team upheld service delivery by prioritising work schedules focusing attention on critical tasks first, and then other requests. He says constant support of managers and coworkers proved invaluable during this period even as they encounter new sets of challenges everyday.
Hazelhurst enjoys staying busy, stating that "work is my hobby, and I spend a lot of time at work". This makes it easy for him to plug gaps and get dirty when required.
About Wits Covid-19 Heroes
The Wits Heroes Series celebrates staff and students who went beyond the call of duty at the onset of Covid-19 in 2020. Wits Heroes were nominated by members of the Wits community. Discover other Heroes.