Keeping information flowing
- Wits University
"I simply could not sit back and do nothing when I knew that I could try to make a difference and help the students out."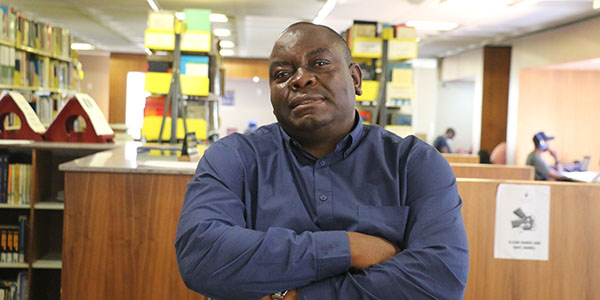 These are the words of Vongani Mlambo, Library Assistant at the Engineering Library, who is nominated as a Wits Covid-19 Hero. Mlambo kept the library accessible to students and was on hand to offer advice to library users on how to source online learning and research material essential to their studies.
The library plays a critical role in teaching and learning and is a valuable space for students who do cannot purchase prescribed books and complimentary books. And this fact was the driving force behind Mlambo's commitment to keeping this space open when Covid-19 hit and throughout the lockdowns.
A father to a university student, Mambo observed that parts of life shut down during the hard lockdown, learning did not stop for students. "I thought to myself that there are probably students out there who do not have access to the resources that the library provides and as a result would be disadvantaged. I simply could not sit back and do nothing when I knew that I could try to make a difference and help the students out."
The efficient delivery of information is essential to Mlambo who joined Wits in 2014 as a messenger. At the time he was stationed at the busy DPHRU (MRC-Wits Developmental Pathways for Health Research Unit) and later moved to the Geomath library where he worked as a clerical assistant. As a result of his keen interest in the library, he was promoted in 2019 to library assistant, where he is currently located.
In this front desk position, he assists users with access to electronic resources, teaches students how to use databases and libguides. He also services the interlibrary loan department which supplies material to other universities that form part of the network of libraries and share resources. As knowledge evolves quickly, Mlambo ensures that new prescribed books are captured timeously on the system and ready when needed. He also has to prevent the loss and damage of the valuable books and journals under his care.
As the face of the University, Mlambo believes it is important to treat students well. "Everyone goes through a lot – the students are struggling with their studies, their social and family lives, and I always aim to be as kind as I possibly can be to them every day."
The life and needs of a student are very familiar to him, as he is on his journey of growth.
"I enjoy studying and being in the library has encouraged me to start studying again. I enrolled with Unisa in 2019 completed the Higher Certificate in Archives and Records Management in 2020. I am currently in my second year of a Bachelor of Information Science and hope to complete it in the record time in 2022."
His hope is that hope for 2022 is that things will get better for the country and the university. "I hope that there's at least a sense of normality that is restored. I want to see myself grow, especially in the workplace. I believe that being a Covid-19 hero is the first of many greats and professional accomplishments."
Senior Librarian Pinky Matia says Vongai has been truly selfless, reliable and dedicated to serving the Wits community. He has extended himself taking on several responsibilities.
"He was in the library to assist with the preparation of the opening of the library in making sure that all safety protocols are in place for students to sit and study for the exams. Never once did he complain, instead he would just say "don't worry dimamzo (an affectionate and respectful name for mature women), we have to work."
On his side, Mlambo is both ecstatic and honoured to be nominated as a hero. "It's not every day that we find ourselves in a global pandemic, and to be recognised as an individual who contributed towards the relief and the aid of those who needed it during such a difficult time means so much to me. I am also proud of the fact that I was able to help whenever I was needed, and that I did not shy away from any challenges that I faced."
About Wits Covid-19 Heroes
The Wits Heroes Series celebrates staff and students who went beyond the call of duty at the onset of Covid-19 in 2020. Wits Heroes were nominated by members of the Wits community. Discover other Heroes.