Guarding the arts in a pandemic
- Wits University
I wanted to help the School of Arts because the lecturers were busy dealing with so many other issues concerning students.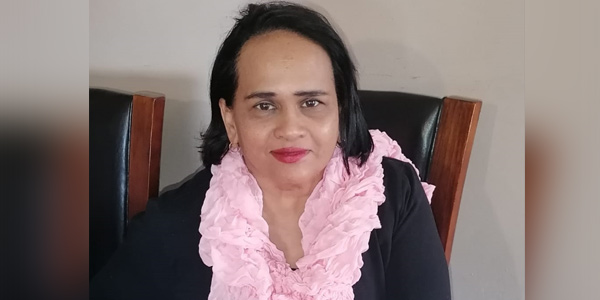 Former Wits University employee Beverly Batohi chose to fight the virus head-on and selflessly serve the Wits School of Arts.
Batohi, who was the Wits Theatre Manager before taking early retirement in April 2021, worked tirelessly at the onset of the coronavirus outbreak to coordinate the School's Covid-19 response. She helped to facilitate the return of students to campus, tracked Covid-19 cases within the department, promoted Covid-19 protocols compliance while further providing much-needed support to distressed colleagues and students.
"I just took on something that had to be done at the time. I wanted to help the School because the lecturers were busy dealing with so many other issues concerning students. I did not want them [colleagues] overloaded during the very trying time that we were going through," she says.
Affectionately known by the students as "Aunty Bev", Batohi led with love and compassion, often placing the needs of others before her own.
A self-proclaimed workaholic, Batohi says the opportunity to work directly with the School and the Faculty of Humanities was a blessing in disguise. It was her final act and service to Wits as the pandemic dropped the curtain on theatre productions and drained their vibrancy.
Batohi, who retired early because of health risks associated with a pre-existing condition and the need to spend time with her family, says she will miss working with her students.
One of her fondest memories is working with second and third-year students on the play Devil at a Dead End directed by Kashifa Sithole. This production won awards at the then Grahamstown National Arts Festival in 2018.
"It won Best Student production. I was so thrilled about it. I thought these kids did fantastically there. That was huge kudos for the theatre and the Wits School of Arts," recalls Batohi.
"What those kids pulled off will always stay with me and warm my heart because they made such a difference."
Batohi is now back with her family in her home province of KwaZulu-Natal and continues to be an 'aunty' to those who cross her path. To keep busy and give back, she has opened a shop selling street food at an affordable price in a low-income industrial community.
"I'm working harder now than I ever worked before. The poverty in this area is so saddening. I'm glad that I can make a difference in someone else's life. Look, I have 10 years left to run around. I will not be able to do this when I turn 70," she chuckled.
Batohi says she misses her colleagues and students at Wits and urges them to continue showing each other kindness.
Her parting words to Witsies are: "Be there for each other, especially in these challenging times. You can always substitute a hug with a kind word, and that truly works. It makes the other person feel happy."