Faculties come together in fight against Covid-19
- Wits University
Diverse team of staff and students proudly came together at a time when the country need them most.
It has been almost two years since South Africa declared a national state of emergency due to the Covid-19 pandemic. 2020 brought along with it a fear of the unknown, as many people in the country were unaware of what was to come, and how frontliners and medical staff in the country were going to handle the situation.
Amazingly, a diverse group of Witsies heeded the call to help their country, and offered their services to make face shields and other personal protective equipment (PPE) for medical workers, frontliners and essential staff.
They have aided the country in the ongoing fight with Covid-19 and have duly been recognised as Wits Covid-19 heroes.
Although the Wits Face Shield Project initially began in the Faculty of Engineering and the Built Environment, it quickly spread throughout the faculties, as more people volunteered to help in any way that they could.
Elinor Engelking, a masters student studying social anthropology, was first brought in by a friend in engineering to assist with cleaning the workspace and cutting the face shields. She later went on to become a project co-ordinator.
"I feel very proud and grateful to be a part of this project," Engelking says. "It has made me feel like I am contributing to helping fight this pandemic."
"Everyone was dedicated," adds Letlotlo Phohole, the Chief Technology Officer of the Transnet Centre of Systems Engineering (TCSE) at Wits. "This was not a usual task, but people wanted to make a contribution and add value towards fighting the pandemic by protecting the frontline workers while the government's PPE procurement was being initiated."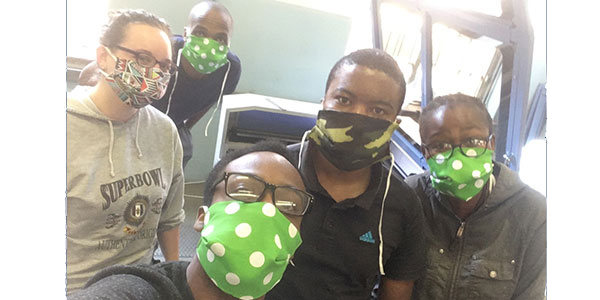 Engelking says that having a team from a wide range of backgrounds and faculties enhanced the success of the project, because people were able to offer different perspectives to any given problem. She also says that it was a very cooperative and harmonious environment, where "everyone was able to pitch at every level", no matter whether you were staff or student.
TCSE, along with the Transnet Matlafatšo Centre (TMC) and the Faculty, are enthusiastic about using innovation towards bettering society.
Due to time constraints, innovation was on everyone's mind at the Wits Face Shield Project, as the team had to find a way to create face shields in a fast and affordable way, all while maintaining their feasibility.
"Knowing our constraints, we had to look at the appropriate technology to make face shields, and we did just that," says Phohole.
He goes on to say that innovation encircles everything, resulting in people having to adapt quickly to changing environments, something that he believes South Africa needs to work on.
At the time the team was fully engaged in the Wits Face Shield Project, they were also working on 3D printed nasal swabs and anti-microbial face mask material. Along with that, TCSE has begun the initial stages of going online. "We could either wait to be disrupted, or disrupt ourselves by learning and developing new competencies," Phohole says.
The success of the Wits Face Shield Project, garnering multiple donations and sponsorships, has proven that South Africa truly is stronger together, and that different perspectives can help solve any problem posed. As Phohole so adequately puts it, "the whole is greater than the sum of the individual parts". These Wits covid-19 heroes are a true example of working together to better our nation.
The list below comprises the postgraduate volunteers that took over the manufacture of the face shields at the School of Mechanical, Industrial & Aeronautical Engineering. When Dr Randall Paton had to resume classes. Engelking took the role of project co-ordinator and did an excellent job co-ordinating the scaling up of face shield production and distribution to multiple provinces.
| | |
| --- | --- |
| First Name | Last Name |
| Abraham | Martey |
| Alirio | Araujo |
| Atang | Maqelepo |
| Elinor | Engelking |
| Ella | Kolokoto |
| Jimodo | Ogada |
| Kavisha | Patel |
| Khanani | Machumele |
| Kiyaasha | Ukabhai |
| Koketso | Maphelela |
| Ladi | Kevin |
| Mahmood | Katun |
| Mohale | Nakana |
| Mohammed | Sluieman |
| Nathaniel | Dlamini |
| Oreva | Eterigho-Ikelegbe |
| Peter | Agbaxode |
| Poloko | Monaheng |
| Qetelo | Qhola |
| Salma | Omer |
| Shadrack | Khorombi |
| Sibusiso | Luthuli |
| Simbarashe | Magege |
| Siwaphiwe | Peteni |
| Stanley | Okangba |
| Stephen | Ojango |
| Tinashe | Zimbwa |
| Waheed | Audu |
| Xolani | Radebe |
Staff involved in the project in vaious capacity came from the faculties of engineering and healht sciences, occupational health and safety unit, campus health and wellness centre.
Moses Mogotlane
Palesa Riba
Letlotlo Phohole
Michael Atkins
Dean van Aswegen
Gavin Britz
Adam Pantanowitz
David Ruven
Sagie Pillay
Lynda Murray
Guy Richards
Randal Paton
Shaun Riekert
Gerrard Peters
Jonathan De Villiers
Anna Moloi