Teaching engineers through art
- Wits University
Interdisciplinary learning is on the rise so we asked an industrial engineer what the Wits Art Museum had to teach her engineering students.
An alumna of Wits, Bontle Tladi is a Lecturer in Industrial Engineering. With industry experience in Supply Chain, ICT, and business optimisation, primarily at Sasol, Tladi is passionate about purpose and potential. As a result, she also has certifications in Business Coaching and Social Entrepreneurships from GIBS, and her research interests include organisational and community development, as well as social entrepreneurship.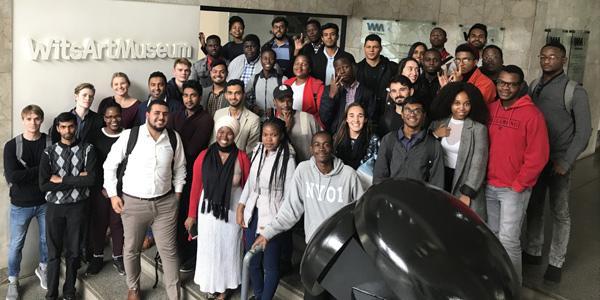 It is surprising that you – as an engineer – would take your students not to a big industrial plant but to the Wits Art Museum (WAM). Can you tell us more?
There is a growing interest globally in cross-disciplinary teaching, and the different ways in which we can develop our students' critical thinking skills. WAM not only has a very interesting space in terms of function and architecture but an amazing collection of over 12,000 artworks from across the African continent.
When we think about the future of employment, it's critical that we introduce students to diverse environments in which to apply their skills. Secondly, in terms of the skills we need for the future, complex and adaptive thinking are key. Industrial engineering (IE), and engineering in general, is a way of thinking rather than a training that is limited to certain sectors. Work-integrated learning is a big component of what I am trying to incorporate into the course, and WAM offered a suitable environment to explore and apply an approach where students can apply the skills they develop in the classroom to local spaces.
How did/do your students initially respond when they hear that they are going to an art museum?
At first, I think they just treated it as an assignment that "needed to be done". Later on, however, I realised that there was an opportunity to implement some of the students' recommendations as a vacation project at WAM. In other words, the students were able to engage further with the WAM environment, and take up opportunities for work-based 'immersion' rather than just a project-based site visit. Simultaneously, they had to learn to speak the 'language' of the WAM space, in order to communicate value to the client in language that did not rely on engineering jargon.
What kind of projects have your students carried out, and what are they learning from them?
Students assessed the systems necessary to maintain WAM's capacity to conserve its collection. Not only are students testing the bounds of their creative thinking and systemic problem solving, but also the meaning of value and how it exists in art and heritage.
In 2018, we created an exhibition called Premonitions, which originated as a collaboration between social scientists and artists, and looked at imaginings and critiques of how globalized digital technology and its systems have and will continue to shape and shift African futures. The students explored questions surrounding data, knowledge and decolonisation within a globalised information society.
Through these kinds of projects, my students have learned how to source from a repertoire of tools (forming their own 'toolkit'); recognise the context of problem-solving; build organisational acumen; and learned to deal with a real-life "client" WAM – an institution and physical space – and communicate effectively about process and solution through client pitching, client reports, and presentations.
If you were to motivate academics working in other non-arts fields to consider museums as a place to teach, what would you tell them?
It is clear that we are moving toward a more multi-disciplinary future, and it needs to start in the classroom. It begins with us – facilitators of learning in the classroom – engaging with one another. We need a combination of skill and knowledge to provide relevant answers to the existing and emerging societal problems that we encounter.
There is of course also room for innovative research to take place, fostered by an exchange dialogue between museum curators and those in other fields, and in relation to the museum environment as well as museum collections.
Has teaching at an art museum changed your own perspective on the value of art for society?
Absolutely! I've learned a lot about how IE can be applied in such environments, and seen how there might be more opportunities for industrial engineers than I had first realised. WAM does far more than "just art" – it offers a wide range of teaching, events and learning opportunities, all of which require and give insight into project management.
On the "value" aspect of art, an interesting conversation ensued from the students' presentations in terms of how we calculate and determine "value", the implications for insurance, how we motivate for investments in the space, and so on.
For more information and to discuss options for interdisciplinary teaching at Wits Art Museum, please contact Lois Anguria lois.anguria@wits.ac.za