Arts and Science marry at Wits Art Museum
- Wits University
Since 2012, WAM has been driving educational innovations that demonstrate the relevance of art collections for teaching and learning across disciplines.
Art museums the world over have often struggled to articulate and demonstrate their impact beyond playing the role of 'custodians' of culture and heritage. This despite the fact that research in museum education internationally shows the value of art collections across disciplines - that art collections can help promote observation, description, association with prior knowledge, interpretation, hypothesis, comparison, evidence-based reasoning, extended focus, deliberation, and openness to different perspectives and possibilities.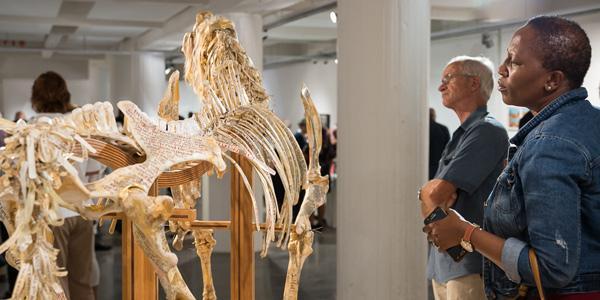 Educational innovations at Wits Art Museum (WAM) demonstrate the relevance of art collections for rich learning, critical thinking skills and cognitive development, says Lesley Cohen, Curator: Strategy, Planning and Development at WAM. "The social, pedagogical, and physical space of WAM has become a valuable learning environment for a diverse set of groups both within and beyond Wits."
Multiple different departments at Wits are already successfully engaging with WAM and its collection of over 12,000 artworks from across the continent and showing the inter-disciplinary potential of museums for teaching beyond the visual arts.
"Among educators globally, there is a growing interest in how learning in one domain can be effectively applied to other domains, and thus in how learning in the art museum can be transferred to learning and development in other fields," says Cohen.
Lecturers from disciplines as varied as biology, computer science, English, history, and music theory are bringing their students to academic art museums with the intention of using original art as a means of, among other things, developing close reading and listening skills.
Museum visits are not just an opportunity for students to experience art, but a chance for them to grapple with ambiguity, build skills related to reasoning, and promote dialogue.
WAM has already proved to be a valuable resource for over 2800 students from 26 disciplines and 12 different schools. With the newly opened Jack Ginsberg Centre for Book Arts, the museum's potential has grown even further.
The art of engineering
For example, Wits Industrial Engineering (IE) students recently explored and debated the various systems necessary to maintain the museum's capacity to conserve its collection. Not only are students testing the bounds of their creative thinking and systemic problem solving, but they are exploring the meaning of value and how it exists in art and heritage.
Other learning outcomes among IE students include learning to source from a repertoire of tools (forming their own 'toolkit'), recognising the context of problem-solving, building organisational acumen and learning to deal with a real-life "client", and communicating effectively on process and solution through reports, presentation and client pitching.

Gamification and body art
Meanwhile, Game Design students created interactive apps to establish new ways to affordably share art content in virtual reality, and Digital Arts students have explored curatorial dilemmas around WAM's Central and West African masks, responding with innovative digital interventions such 3D-printed replicas with touch-activated animated illustrations.
With visual analysis being a critical tool in the Health Sciences, the WAM collection is also being used as a tool and a resource for pathology registrars to develop skills to observe and describe what they see under the microscope. In turn, this has a significant influence on their ability to diagnose.
In the year ahead, lecturers in Anatomical Sciences are looking to partner with WAM to help their students think about anatomy differently, exploring how function influences shape and structure.
For more information and to discuss options for interdisciplinary teaching, please contact Lois Anguria lois.anguria@wits.ac.za