Meet HIV researcher, Thulile Khanyile
- Wits University
Young, passionate and dynamic Wits lecturer, Thulile Khanyile is determined to conduct research that will have a social impact.
Khanyile is a PhD candidate in the HIV Pathogenesis Research Units and a lecturer in the School of Pathology. Over and above her academic duties at Wits, the self-styled socialpreneur is co-founder of Nka'Thuto Edu Propeller. She is also the recipient of numerous awards, including being named as one of 2018's 100 most influential young people in South Africa.
We take time out with Thuli to discuss her research as well as her passion for empowering the youth.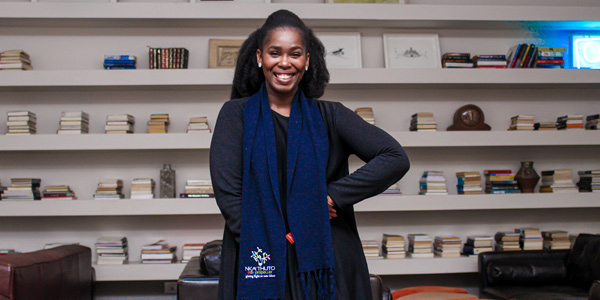 Were you always interested in Science and how and when did you decide that research was a career path you would follow?
During my basic education period, I was very drawn to the arts. I enjoyed dancing and music and participated in musicals. However, I was encouraged by my parents to follow a more academic bent, and I applied to medical school. When that was unsuccessful, I moved into the field of biological sciences. I shadowed a PhD student in Professor Eugene Cloete's (formerly of the University of Pretoria, now Stellenbosch University) laboratory who worked on the effects of biofilms at Eskom. It made me realise that research could have a direct impact on people and their lives. During my in-service period at the Council for Scientific and Industrial Research (CSIR), I got an opportunity to experience how it is working as medical researcher, and I decided to focus my research to HIV.
What would you highlight as your key research focuses?
During my masters, I worked in the field of biophotonics examining the use of lasers for precision delivery of antiretroviral drugs in cell culture. For my PhD, I am involved in the search for an HIV vaccine by trying to mimic the broadly neutralizing antibody response of the super responder, Donor CAP256, in small animal models.
Tell us more about your NPO, Nka'Thuto Edu Propeller and its mission.
While at the CSIR, my cubicle mate, Thandeka Mhlanga invited me to participate at a Science Expo that she held at a school in her township in Katlehong. We became involved with a group of students whom we mentored and guided and who eventually won at the district level of the Eskom Science Expo and one went as far as the National Finals of the competition. The success of this endeavour led us to set up a think tank that aims to use technology to solve problems that children have identified. The Edu Propeller aims to increase the visibility of STEMI (Science, Technology, Engineering, Mathematics and Innovation), to teach children research methodology, select projects with business potential and assist the children to develop business models for their solutions. The ultimate aim is to develop "technopreneurs", people who can use science and technology to make an economic impact. Following the development of business models, the idea is to ensure that the technologies are prototyped and ultimately commercialised in relevant markets.
Have you found navigating the academic space more challenging as a woman? If so, what would you say is the greatest gender-based challenge you have faced in your career?
In the biological field, there is a good representation of females at the entry and lower levels but this is not translating in the more senior positions, which are still male dominated. As a female early career academic, I have found that there can often be an assumption that opportunities given to you is simply because you are a female, rather than based on your ability.
How do you manage to balance the demands of lecturing, research and outreach?
I have blogged on the subject, but ultimately you have to do what you have to do. I live by lists and I am not certain if I am getting the balance right, but I make sure I do not miss deadlines.
How do you think that the challenges African female academics differ from that in the first world?
The opportunities for collaboration are better overseas. Moreover, there are more financial resources in first world countries, meaning there is increased technical support for female academics. In Africa, if you are not able to be at the bench, work cannot carry on and this is a particular challenge for females starting a family. With the correct technical support, if you are not at the bench, but still capable of the intellectual input, your work can continue.
Social entrepreneurship is not the norm among academics. Do you think that there is more scope for involvement from the Wits academic community in particular, and how can they become involved?
Social entrepreneurship is applying business principles to solve societal problems. Teaching people how to solve their problems and teaching them business principles is a way of advancing social entrepreneurship. Any research can be translated into a social enterprise, as the university is a hub for data, which can be packaged and marketed accordingly.
Do you think that the current trajectory for the facilitation of women in science is a positive one? What do you see as the single greatest challenge for young female scientists?
Empowerment programmes often assume that women are not empowered. There are ways to celebrate women in a manner that is acceptable to women. During my period in biophotonics, a very male dominated physics field, it was particularly challenging to move between biology and physics. This meant that there were many opportunities for intellectual bullying. However, the assistance from the younger males in the field was encouraging and suggestive of a good trajectory for females in the field.
You have been particularly successful in increasing your impact beyond the standard academic scope such as publications and conferences. Some academics may find this a little nerve-wracking. What advice do you have about harnessing the power of social media to increase your academic impact?
The way social media is consumed is different to the way academic research is consumed. Therefore, to harness social media, scientists need to write colloquially and concisely about their work. Some scientists may be recalcitrant to engage with the public to prevent giving people false hope. However, scientists should let the public know what challenges they are facing.
To make best use of social media, you need to be familiar with your platform. Social media can give people an idea of what your research means. For example, Twitter is great forum for establishing collaborators and being informed of opportunities.
As we wrap up Women's Month, can you give a single line message for female early career scientists?
We understand the technology, let us leverage it.