Amandla for Gender Parity at Wits
- Wits University
The new Director for the Wits Gender Equity Office (GEO), Crystal Dicks is "maatla – amandla (strength)" personified.
Dicks, an activist with over 20 years of experience in activism is tasked with balancing the gender equilibrium at Wits University.
An advocate of change and an unflinching feminist, Dicks says her sense of activism was ignited by her quest for justice and working with grassroots structures pre-and post-democracy. She established her career in the labour movement holding various positions with her portfolios revolving around gender, education and research.
She joins Wits from the National Union of Metalworkers of South Africa (Numsa) where she was head of Numsa's Research and Policy Institute (NuRPI) responsible for providing strategic direction and development of Numsa's research and policy work in four spheres: membership and collective bargaining support; women and work; public policy engagements; and building pro-poor alternatives.
At Wits, her office is responsible for receiving and investigating gender based harm (GBH) complaints, provides a counselling service and plays an advocacy role where it raises awareness around gender inequalities and challenges patriarchy in the University.
Although the GEO has had success in its infancy by introducing groundbreaking policies to tackle GBH and dealing effectively with reported cases, she believes that more work is needed to conscientise people about gender issues.
"The GEO is still new and pioneering. No university in the country is doing what we are doing and very few universities internationally do what we do. A lot of work needs to be done in being more proactive and creating awareness around the office, around the work of the office and our complaints mechanism in enabling a safe environment for women in particular and those from non-gender conforming identities."
Her office is a victim based office that serves both men and women, however because of existing patriarchy and misogyny, most complaints are from women. "Women are the main recipients of gender based harm and harassment" she says.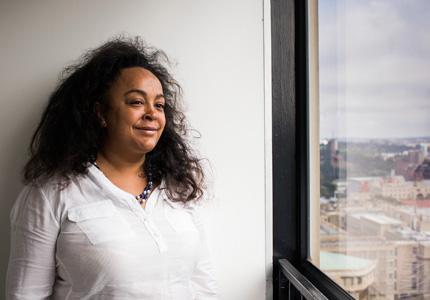 Having worked in male-dominated environments most of her life, Dicks has a deep appreciation for the work that lies ahead especially in changing attitudes and behavior. Wits is a fitting place to build her vision of a gender equal society, she says.
"Wits is the centre of where knowledge is produced and disseminated. Universities are significant contributors to how our societies transform and develop," she says.
Another area of focus is to understand the source of anger on our campuses.
"It is important to recognise where the anger comes from. There is still a lot of stigma. The instances of GBH are a lot a greater than what we actually know. For example during the talks we would host, the questions which are asked are so loaded. There is always a statement behind those questions."
To this end her office is rolling out a Silalele campaign a listening intervention campaign aimed at hearing the university communities' solutions to GBH on campus. Silalele means listen in isiZulu
"I want to listen to what students think can be done better, what students think we need to do more of, she says."
Other projects currently spearheaded by her office include the Gender Justice Champions (a group of students who support the work of the GEO in eradicating GBH on campus) and Building Positive Masculinity (a project which works with men on campus to shift toxic masculinity to positive masculinity).
Originally from Cape Town, Dicks studied completed a Bachelors of Commerce degree in Economics with the hope of becoming an economist but activism got to her first. She holds a Master's degree in Organisational Research and Development (with distinction) from the University of Manchester. She is currently working on a PhD in Gender Studies.
Her other passions include cooking – she is a connoisseur of good food, an avid reader and delights in the conversations with her book club members.