New Diversity, Ethics and Social Justice Manager in the Wits Transformation Office
- Wits University
Dr Kendall Petersen joined his alma mater as the new Diversity, Ethics and Social Justice Manager in February 2017.
As a Social Justice Manager in the Transformation and Employment Equity Office (TEEO) at Wits, Petersen will coordinate and facilitate diversity management, ethics management and social justice projects of the University together with other stakeholders.
Amongst his other duties, he will oversee the investigation and management of discrimination related cases and provide advice and support to staff and students on issues of diversity, ethics and social justice.
He joins Wits from Gay & Lesbian Memory in Action, where he was a Programme Manager responsible for the conceptualisation, design and implementation of all board-approved projects and organising dialogues between Queer-identifying groups and various entities within the LGBTIQ community.
Being an incumbent in the TEEO, Petersen says that transformation has become an organisational and strategic imperative in all universities around the world.
On the transformation front, one of his key objectives is to build social cohesiveness on campus, enabling a platform where members of the University community can openly engage in dialogues around systemic problems of privilege and the abuse of that privilege on campus.
"I would like the University to get to a point where we can have honest dialogues with ourselves and each other. The University community, I find, is a bit fractured and there is no cohesion in terms in what we all want it to be and what that community means for us."
Petersen believes that with the various factions of people, interests, and perspectives of cultures present in universities, "there is a need for a cohesive and unified institutional culture as a means of enabling a more nuanced understanding and acknowledgement of our diversity" he says.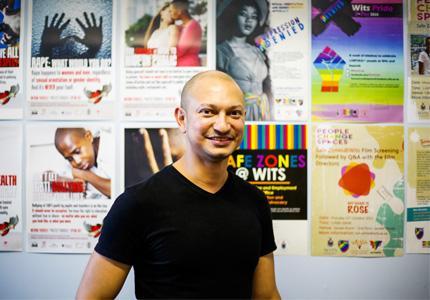 "The idea around institutional culture is the creation of a cultural paradigm that focuses on unifying the different components of a community. A culture is identified by shared values and a shared commitment to certain values. It is communal acknowledgement and recognition of the same principals. So a unified institutional culture for Wits would be one where every member of the University community is committed to the same culture and values."
His relationship with Wits dates back at least 20 years, when he first started working in the University Art Gallery, a year after completing matric. After two years with the gallery, he was awarded a bursary to pursue his studies, and completed a Bachelor of Arts degree majoring in Art History and German.
He attained all his qualifications at Wits, including a Master of Arts as well as a PhD, and all his research has been focused on issues of gender and sexuality.
His interest in gender and sexuality emanate from his fascination with drag and subversions of conventional notions of identity, subjects that he was able to develop into academic content when he played a role in the establishment of the Honours Programme in Gender Studies at Unisa in 2014.
Petersen is well placed in his position and identifies with various members of the Wits Community. Having researched widely on gender, identity and sexuality, he brings with him a wealth of experience to his job.
"I have always been interested in issues of gender and sexuality and the many differences and articulations between them, which emanate from particular contexts as well. I was interested in it from a very intersectional point of view as well, because I not only identify as a gay man, but I am also a coloured man."
Returning to Wits was a means of giving back to his "home".
"If you are going to commit yourself to bringing about change, then you should start at home. Wits is my alma mater and it is my academic home. It is where I identify with the problems and I can identify the problems within the actual system. The change I want to see in the world has to happen in my immediate community."
He describes himself as a committed, loyal, and ambitious individual who always sets goals and targets for himself. From early-on, he knew he wanted to pursue a career in academia and was naturally motivated to complete a PhD. This journey, he says, "was a lot more stressful", but made him proud after its completion.
Aside from being a bit of a "nerd", as he describes himself, he enjoys spending time on his own or with his partner, as much as he enjoys hosting people and entertaining them. He is also an avid music listener.
"I like having people around, cooking for them and entertaining them." I love reading and I love music. I need to have music around me all the time. I love music because it is a wonderful escape and a wonderful release and it can also be thought provoking."