Wits honours conflict resolution luminary
- Wits Communications
Wits awards distinguished attorney and dispute resolution luminary Charles Nupen with honorary doctorate in law.
Charles Nupen received an honorary doctorate for his lifetime commitment to dispute resolution, his role in helping lay the foundations for the successful transition to a more co-operative labour relations system in the country, as well as establishing dispute settlement agencies throughout Southern Africa and other parts of the world.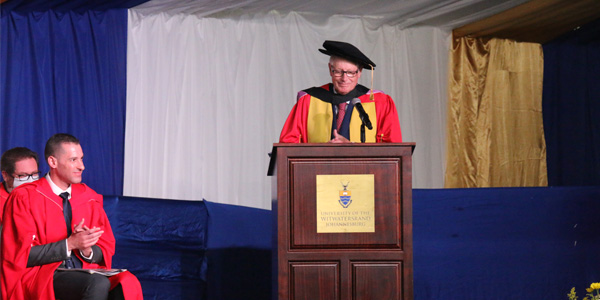 In his address to Wits graduands, Nupen paid tribute to the legendary late Chief Justice and Witsie, Arthur Chaskalson with whom he had worked. Nupen recalled a case from the mid-1980s where their legal team set out to challenge – and won – a case against the East Rand Administration board challenging the Urban Area's Act, which prohibited black South Africans from residing in so-called white areas.
The team won section 10 (1)(b) rights for their client, Mr Rikhoto, a migrant labourer in Germiston. Overnight well over a million migrants workers qualified to live in areas where they worked as a result of this case.
"Recalling the events at the time, the biggest takeaway for me was witnessing how the law could be used to make a fundamental difference to the life of citizens who were victims of injustice," said Nupen. "You young graduates face challenges today that are different but no less daunting than those that confronted my generation. I hope that there are some take-outs for you from Chaskalson's life; a life that presents immense possibility for personal ambition and wealth, but which ultimately found meaning and value in dedicated service of others".
His working life was dedicated to issues of social justice and conflict resolution. At a time of heightened industrial conflict under apartheid, Nupen and his colleagues laid the foundations for successful mediation and established South Africa's first national public dispute settlement agency, the Commission for Conciliation Mediation and Arbitration (CCMA). To date the CCMA has had a 70% national settlement rate.
In his student days, Nupen with fellow students created the Wages Commission to expose 'poverty wages' amongst black workers in South Africa.
As President of the anti-apartheid National Union of South African Students (NUSAS), Nupen and other NUSAS leaders were arrested for running a campaign for the release of political prisoners.
Nupen is a role model to graduates as well as to the current generation of lawyers. He continues to successfully mentor a new generation of lawyers committed to social justice.