How studying frog eggs enabled understanding of human facial deformities
- Wits University
A Wits alumna and renowned biologist shared how her international career started with unravelling 'ant songs' and scrutinising frog eggs.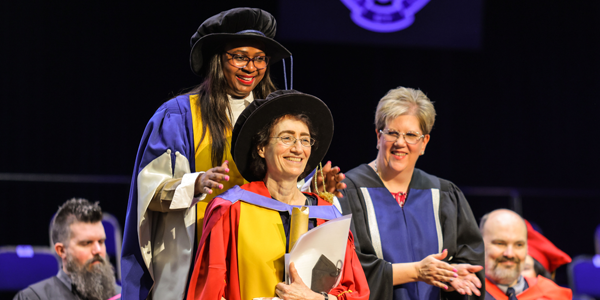 Biologist Professor Hazel Sive, an expert in facial deformities, addressed Wits graduates at the 12 December 2022 graduation ceremony at which she was awarded an honorary doctorate in engineering.
The honorary degree recognises Sive's significant contributions to understanding the 'construction and engineering of people' and promoting academic excellence and international partnerships in Africa.
In her address to graduates from the Faculty of Engineering and the Built Environment, Sive set off by describing herself as a type of engineer, architect and planner interested in the constructing of people.
She regaled guests in the Great Hall about the beginning of her career – initially sparked by a project to explore how a type of ant, called Odontomachus, sang to communicate with others.
Working with a gigantic electron microscope in a darkened, cool room, Sive came across a patch of ridges on the head of the ant, "Maybe 10 ridges, exactly the same height and exactly parallel. I had no idea what this meant, but I thought it was amazing that such perfect geometry could be built in an ant," she said.
This delighted her professor who declared that she had discovered the musical instrument.
"The song was made because hairs on the front leg of the ant moved across the ridges on the head and the spacing between them gave the frequency of the song," she said.
For Sive, it was a beginning: "That was one of the ways I started to become fascinated with how life was designed and built."
Another research project assigned by her lecturer Professor Barry Fabian, investigated the South African claw-toed frog, Xenopus, confirming Sive's interest in the composition of life.
"I was tasked with collecting frog eggs, growing them to the next step called 'embryos', that grow to become tadpoles. I did this on the top floor of the Wits Biology Building, keeping thousands of embryos in rectangular plastic dishes."
This experience was truly magical said Sive, as it stimulated dozens of questions and set in motion her career path of discovery, design and building around the construction of life.
This path took Sive on a route where she ultimately led research groups that contributed unique and crucial knowledge, defined dozens of genes (the plans) and novel processes by which cells work together to build the face and brain.
"Much of our work has used frogs as a model for people – the same kind of South African frogs I first met in the Biology Building. What I learned about frogs at Wits has eventually made me a world expert in this system," said Sive.
"We've determined what contributes to some human facial and brain disorders [in humans], and suggested groundbreaking potential therapies, including modified lipids and hydrogel implants."
Careful not to make her journey as a straight path filled with success or to downplay the challenges of the working world, Sive now the Dean of Science at Northeastern University, assured graduands that uncertainty and knowledge gaps can always be filled with continued learning and asking for help when needed.
"It's been more than 40 years since I received my Wits degrees. It was a great privilege to be educated at Wits, and the training I received here has been the most important and useful of my life. I've been lucky to work at several excellent universities, but Wits is the university closest to my heart. I'm sure each of you will remain a proud Witsie forever."
Read the speech by Sive.
Rooted in Africa
Sive is not only a proud Witsie but an African at heart who has harnessed her international position for the good of the continent and the global science community. According to her citation,
Sive has developed and grown broad engagements with South African and African universities. In her role as Faculty Director of the Massachusetts Institute of Technology (MIT)-Africa Initiative, which falls under MISTI [the MIT International Science and Technology Initiative], she has developed a number of strategic initiatives in Africa. These have supported both educational and research collaborations in Africa, leading to mutually beneficial partnerships and programmes.
The MIT-Africa internships are one such programme which, each year, sends dozens of MIT interns to Africa. Approximately 40 Wits students each year work with MIT students on a digital innovation and entrepreneurship programme, which is run in partnership with the Wits Tshimologong Digital Innovation Precinct.
Sive has also helped to facilitate numerous visits and engagements between Wits academics and MIT senior executives. In addition to the programme in South Africa GSL runs similar bootcamps in Rwanda, Brazil, Peru, Azerbaijan, Mexico and Nepal.