The proud Witsie moment
- Wits University
"Getting a degree from Wits brought a sense of pride," says new staff graduate, Timothy Mudau.
Graduations are time of celebration – momentous occasions for those who have endured hardships, excelled and turned hopes into reality. It is a culmination of years of hard work and success. Many graduands celebrate the world of opportunities their new qualifications will open for them and being part of a pool of outstanding Wits alumni.
New Wits graduate and staff member, Timothy Mudau was ecstatic when he learnt he had qualified for his Bachelor of Arts degree (majoring in Management, Marketing, Psychology) in December 2020. He says, "getting a degree from Wits brought a sense of pride."
"Getting the opportunity from Wits motivated me to study. I was able to believe that everything is possible. I had to work very hard to obtain this qualification. I was so happy to have learnt that I have met all the requirements for the qualifications." He graduated on 20 July 2021 during a virtual graduation season.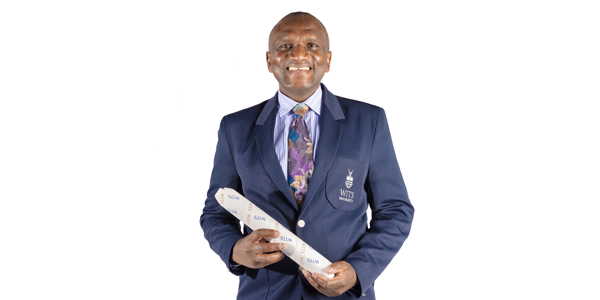 Education: A transformation tool
Mudau has always believed in the power of education in unlocking opportunities and developing potential. After completing matric, he was unable to further his studies due to lack of funding. Although he could not study at the time, he offered his skills to high school learners in Soweto and volunteered to teach them how to use computers.
This act of kindness and his philanthropic values earned him his first job at the company he was volunteering at and he was able to fund his diploma in Business Administration at Damelin College, which gave him a great start in his fleet management career, he says.
His continuous quest for new knowledge and growth was revived after he joined Wits in 2014 as Transport Manager. Working at an academic institution, he was inspired to study again and took advantage of his study benefits.
"This is an opportunity you won't find anywhere. This is an opportunity to upskill yourself. This is a great benefit to many. I wanted to acquire a Wits qualification," he says.
Life of a working student
The keen desire saw him enquiring with the Wits Plus Centre for Part Time Studies about programmes he could study and later enrolled with them. Wits Plus offers flexible undergraduate degrees and postgraduate programmes for mature and working adults to enable them to study and work simultaneously. They offer programmes on a part-time and after hour's basis.
Despite the motivation, studying "was a tough journey with work and family commitments," says Mudau. He enrolled at Wits Plus during the insourcing project of the University. In 2017, the Transport Unit was insourced and this came with added responsibilities and great commitment towards the transition.
"My job is demanding at times and given the nature of the work, there were days when I had to step out of class at night to take work calls and attend to other matters. I had to find a way to navigate my studies and professional responsibilities," he says. Mudau says planning, time management and sacrifice was important to ensure he balanced school and work. "There is no way you can make it without planning. You cannot want the best without sacrificing."
"I am happy that after the formal qualification, nothing was compromised. I still have my family, my job and everybody," he quips.
Forging ahead: Postgraduate studies
This new achievement has displayed his resilience and capabilities, and inspired confidence. He is currently studying towards a Postgraduate Diploma in Business Administration at the Wits Business School and plans to pursue a master's degree next year.
While he acquired new knowledge in various modules and improved his academic writing, Mudau says studying further provided him with a new perspective to life and how he relates with people.
"I can see that I am advancing and my undergraduate is making a lot of difference. Even the way one interacts with people, it changes. You learn to understand their viewpoints and their thinking," he says.
A service oriented individual, he believes embracing diversity is important because he loves working with people and learning from students, colleagues and other stakeholders.
For the opportunities Wits gave him, he hopes to be a change agent and contribute towards the advancement of the University through his service and newly attained skills.