In pursuit of the pink academic hood
- Wits University
A love for the bright pink graduation hood turned Wits Deputy Registrar into a Wits engineering alumna.
From helping students to graduate to becoming a Wits graduate herself, Nicoleen Potgieter, Deputy Registrar, shares the surreal feeling of her latest achievement.
After serving the University for 19 years in various roles and witnessing hundreds of students that she helped to complete their studies successfully, Potgieter has experienced the joy of becoming a Wits graduate herself. She graduated with a Master's of Science in Industrial Engineering on 20 July.
Potgieter initially kept quiet about this achievement because she had always been more excited about the new Wits alumni who made it against the odds. "For me, it has always been about the students," she says.
Road to master's degree
A Baccalaureus Procurationis (BProc) graduate from the University of Pretoria, Potgieter never envisioned that she would one day graduate as an engineer.
"Registering for my master's in engineering was a funny story", she recalls. While working at graduations a few years ago, she was attracted to the bright pink hood one of the students wore and mentioned to one the lecturers, Professor Anne Fitchett. "I jokingly said to her, 'I love this hood, maybe I should come and study engineering with you so I can wear one too'."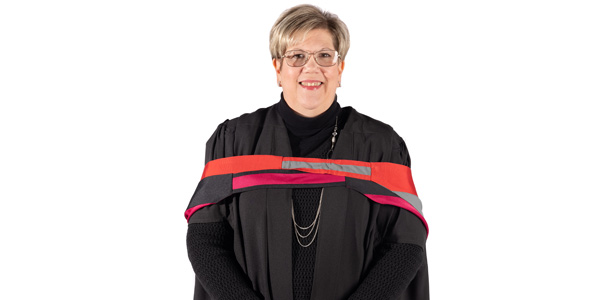 To her surprise, Fitchett responded positively to the proposal and suggested an engineering field best suited to Potgieter's area of work.
"[Fitchett] laughed and said 'Yes, come and study engineering. You can study industrial engineering."
For Potgieter, with her background in the field of education, an engineering qualification seemed far-fetched.
"This is your world actually, industrial engineering is all about processes and systems and fixing things," Fitchett said to Potgieter at a meeting in Fitchett's office to share more details about the engineering programme.
"I later attended one of the engineering classes. I liked the class and next thing, I was registered for an MSc in Engineering," says Potgieter.
Her predecessor and former manager, Nita Lawton-Misra encouraged her to study further when she was Head of the Exams and Graduations Office. Potgieter says it seemed almost impossible to study when she was Faculty Registrar in the Faculty of Humanities, due to the demands of the job. But she realised that studying further would be beneficial.
"I knew that for my own enrichment and if I wanted to advance my career, I needed a postgraduate qualification, something higher than what I had already."
Potgieter says that had she not loved the bright pink hood, she would never have known about industrial engineering as a field of study.
Her newly attained qualification is aligned to her work where and she believes will contribute to better systems to enhance the Wits student experience.
Career redirection ignites passion
She says her career in student administration, enrolments and systems came by chance.
The limited employment opportunities in law redirected Potgieter to her true passion – serving students and potential applicants. When she could not find an opportunity do her law articles after graduating with her BProc, she was contracted for a few months at the National Private College School where she was a student assistant, helping high school learners with applications. She was later offered a permanent contract and she worked there for six years in different roles. This experience led her to Wits where she first joined as an Admissions Consultant working in the Student Enrolment Centre and continued doing what she loves.
"I like the education environment and working with students. Coming to Wits was the best decision ever," she says. The change in careers meant she never had a chance to practise law, however, she does not regret studying law, as the knowledge plays an important role in her daily job where process, rules and policies need to be followed at all times.
Potgieter's legal qualification has been valuable and benefitted her career. "You can never go wrong with education. It gives you a great foundation. If it were not for my law degree, I wouldn't be where I am today."
Satisfaction of student success
She speaks with pride and delight about the Wits students who express their gratitude to her when they graduate.
"I remember one student came to me and asked if I remembered her. She said: 'You called me in and you said to me if I do not do well, I am not going to pass my degree. Today I am busy with my master's degree. Had you not called me in, I would not have obtained my degree.' It is so rewarding to know that you have made a change in someone's life," she says.
She says such encounters are priceless memories that motivate her to always serve students and make a difference in their lives.
"The satisfaction of seeing a student graduate and succeed is something I will never experience anywhere else. We sometimes underestimate the role we play in students' lives."
Potgieter says the engineering qualification has boosted her confidence when she makes suggestions to people about their systems and processes. "I can now base my advice on my systems knowledge obtained for my qualification."
Having studied with much younger students and pursuing a master's in a completely different field to her undergraduate degree, Potgieter has learned not to underestimate herself and discovered she is resilient.