Women trust health professionals more than law enforcement agencies
- Wits University
Wits University has conferred an honorary doctorate in literature on Dr Phumzile Mlambo-Ngcuka, Executive Director of UN Women.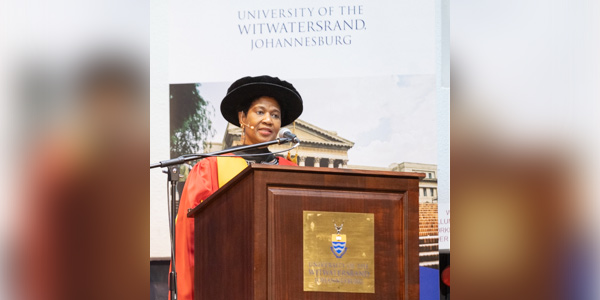 The degree was awarded during the Faculty of Health Sciences' graduation ceremony on 12 December 2019 in recognition of her commitment to women's empowerment, social justice and education.
Mlambo-Ngcuka whose office has the responsibility to protect and promote the rights of more than four billion women around the world, dedicated this recognition to the victims and survivors of gender-based violence as well as those working to end the scourge.
She used her keynote address to highlight the role that health professionals play in the fight against gender-based violence.
"Many of the women see health professionals as people that they can trust. They feel that when they are with them they are in a safe space. This is not true of the law enforcement agencies who are supposed to be the institutions that they go to in time of need. Sadly, this is also not true for them when it comes to their families."
Shedding light on the operations of the UN Women, the former deputy president of South Africa, said her office relies extensively on the data from the UN Health to analyse the problems confronting women, thus emphasising the role of this sector.
She was pleased that health professionals had become more instrumental in identifying violence even when women try to conceal it.
"What you say, how you make the woman feel could be the game changer for her. She may be able to get the courage to seek help, move out of an abusive relationship and to fight for her rights."
Ending gender inequality and climate refugees
Gender inequality, the lack of representation of women in seats of power and the challenges brought about by climate change such as climate refugees need to be addressed with more vigour, said Mlambo-Ngcuka.
She further called on higher education to continue with their leadership role in creating a just society.
"We cannot bring about the changes that are required in the world without the participation of institutions of learning."