How a Wits degree helped avert an HIV catastrophe
- Wits University
Wits awarded an honorary degree to Stavros Nicolaou of Aspen for his role in enabling access to antiretrovirals for HIV during the height of the pandemic.
Nicolaou also led the negotiation of technology transfer for two key multi-drug resistant tuberculosis (MDR-TB) products at a time when MDR and extensively drug-resistant TB (XDR-TB) began to manifest in South Africa. These initiatives saved millions of lives in Africa. Read the full citation.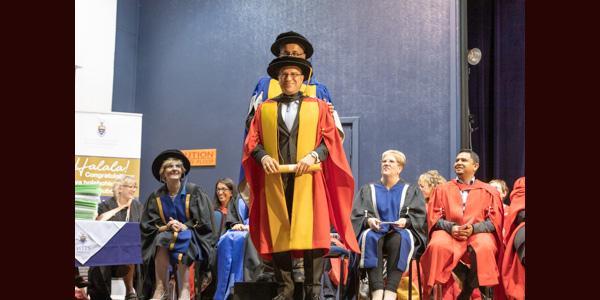 Nicolaou, a leader in the pharmaceutical industry, was instrumental in developing and introducing the first generic antiretrovirals (ARVs) in Africa by persuading global pharmaceutical companies to give Aspen a license to produce these.
This intervention came at a watershed moment, at a time of HIV-Aids denialism by some in government. According to Nicolaou, the appointment of Kgalema Motlanthe as President of South Africa in 2008, and his appointment of Barbara Hogan as Minister of Health paved the way for the rollout of lifesaving ARVs across the country.
Motlanthe attended the Faculty of Health Sciences graduation ceremony on Thursday, 11 December when Nicolaou was capped, along with former First Lady, Mrs Gugu Motlanthe; Deputy Minister in the Presidency, Thembi Siweya; Deputy Minister of Communication, Pinky Kekana; Deputy Minister in the Presidency for Women, Youth and People with Disabilities, Hlengiwe Mkhize; and anti-apartheid activist, Sonja De Bruyn – the last surviving leader of the Women's March. The High Commissioner of Cyprus, Mr Costas Papademas also attended, as did Nicolaou's wife, Mrs Maxine Nicolaou and their children, Alexeia and Harry.
Addressing the graduands, Nicolaou said that Wits University – his alma mater and an "august institution" – had helped shape his value system and the principles that he espouses. Thirty-two years ago, Nicolaou had sat in the same Great Hall and pondered what the future holds.
"What is success and how do you measure success? And it's a very important question you need to ask yourselves today. I'm going to try assist you to answer that question," he told graduands.
Origins and passion
"Educating the mind without educating the heart is no education at all", said Nicolaou, quoting Aristotle, and encouraged graduands to follow their passion.
"My message to you is follow your passion. If you follow your passion, and you execute your professional duties properly, the rest will follow. What is important in life is how you use this privilege of what will be conferred on you today – to have an impact – and there's no better way of achieving an impact than through passion. Educating the heart is as important as educating the mind".
Nicolaou's further message to graduands was to not forget where they come from.
"Many of you have come from disadvantaged, resource-constrained communities and settings. And never forget the poor, the less fortunate, and the most vulnerable in our society."
He shared an anecdote of a time when he asked his personal icon and mentor, Motlanthe, what keeps him awake at night, to which the President had replied, "The level of youth that are unemployed in our country and the restlessness of our youth". Motlanthe had just returned from Tunisia which, a few weeks later, experienced an Arab Spring [anti-government protests, uprisings, and armed rebellions in response to oppressive regimes and a low standard of living].
"Never forget how your sphere of influence can change the future of the many, many underprivileged in our country," said Nicolaou.
Change agents for social cohesion
Nicolaou asked graduands to be change agents in South Africa.
"There is no doubt we are going through difficult and challenging times but I can tell you, as a business person, reflecting on the mood of the business sector, we have been through worse times."
South Africans are durable and resilient, he said, but one of our failings is our own perceptions we carve out of our country.
"That's the privilege of being here with you today, because each and every one of you, remembering where you've come from, will have that ability to change that perception," said Nicolaou, who believes South Africa's greatest assets are its people and its diversity.
Nicolaou identified five areas he believes South Africans need to live to start changing the country:
Reinstate and restore the social cohesion project and rise above the racial tensions that at times hold the country back.
Instill servant-leadership that serves the needs of the people, and drop factionalism.
Create an environment from which our youth can become employed and employable.
Align our education systems with the needs of the future (Nicolaou believes Wits does this very well already).
Reconfigure how our development fund institutions (DFIs) and agencies enable access to capital for the coutnry's youth.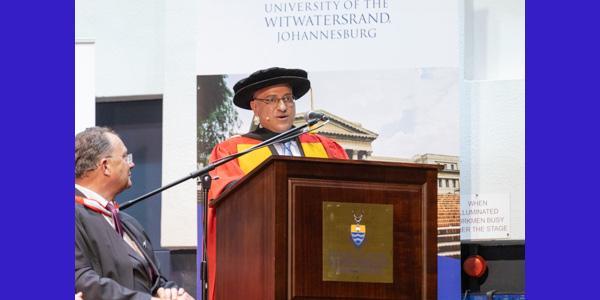 Bold and courageous leadership
These five areas all require leadership, which means taking bold and courageous decisions; an approach taken by Nicolaou and his Board at Aspen in the early 2000s. The HIV catastrophe in South Africa, fueled by HIV and Aids denialism by parts of the government, pitted civil society against government. At the time, 350 000 mainly young South Africans were perishing every year.
"Left unarrested, that would have wiped out a generation of young South Africans – including many of you in this audience," said Nicolaou.
He explained how he and colleagues from Aspen, with the support of his Board, managed against the odds to secure voluntary licenses to dispense ARVs – groundbreaking at the time, because - amidst the socio-political climate - it would require breaking patents.
"We did what South Africans do best. We sat around a table and we dialogued and we secured these licenses and we brought the prices of antiretrovirals down from $10 000 per patient per year to $185. That accelerated the HIV programme in our country. We changed the face of the HIV pandemic in South Africa, against the odds."
Changing the face of the HIV pandemic
This would not have happened had there not been bold and courageous leadership in the country at the time - Motlanthe, too, had displayed bold and courageous leadership, said Nicolaou, by appointing Barbara Hogan as Minister of Health.
"It was that change in direction, that courageous leadership – there was a lot of opposition at the time from the ruling party to this – that set us on a path of accelerated antiretroviral rollout in our country."
Today, South Africa has a rollout programme that is eight times bigger than the next biggest ARV programme in the world and which has five million South Africans on lifesaving ARVS.
"I'm telling you this because you have a degree today, and that degree can set you free in whatever direction you choose. It's what you do with your degree that counts. This is what it means, and this is what it does, graduating from this august institution."
In closing, Nicolaou quoted African philosopher, Matshona Dhliwayo: "The ignorant learn from none, the simple learn from some, the intelligent learn from many, but enlightened learn from all."
Nicolaou said, "Above all, this institution, Wits University, my alma mater, will enlighten you, and probably has already done so. Graduates, go out and change the world."