Be global citizens with a democratic ethos
- Wits University
Harvard Professor Lawrence Bobo implores graduands to be inspiring leaders that strive for a more just, fair and promising world.
Bobo, Dean of Social Science and the W. E. B. Du Bois Professor of Social Science at Harvard University was addressing graduands from the Faculty of Commerce, Law and Management at their graduation ceremony on 10 December 2019.
Bobo said that the current generation of graduands were faced with three defining challenges: climate change; social media saturation; and ensuring that diverse democracies are sustained long into the future.
To address these modern day challenges, "we will need the skills, the appreciation of scientific knowledge and research-based decision-making, as well as the respect for diversity, which you have experienced here at Wits University [and] have embodied," said Bobo, whose research focuses on the intersection of social psychology, social inequality, politics, and race.
Sharing pearls of wisdom, Bobo encouraged the graduands to use the wealth of knowledge they had acquired to effect positive change in society, and to be exemplary leaders with a strong moral backbone who embrace diversity.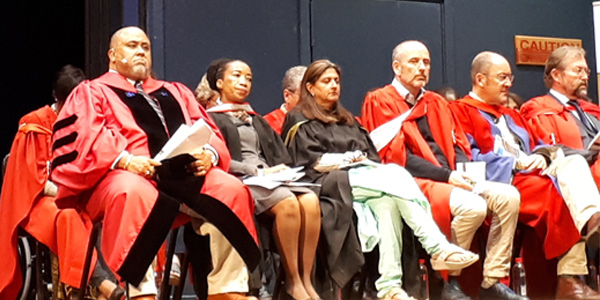 This was Bobo's advice to the new Wits alumni who will pursue careers in law, commerce and management:
"Take the classroom learning and different social experiences you have gained here at Wits and be an advocate for advancing a commitment to truth and knowledge. Do not settle for the easy comforts of the pursued of narrowed self-interest or kneel to the experience of alternative facts promoted by the wealthy and powerful in the service of their interest. In particular, we are counting on you, the class of 2019, to be a hallmark of reason and reflection as unchecked technological change questions our ethical principles and ties our social fellowship in ways that demand careful monitoring and regulation.
Be a person of wisdom and empathy, aware of the fundamental common binds of humanity that bind us together across lines of national origin, colour, race, religion, gender or sexual orientation. You'll be counting your gains from your diverse learning environments here at Wits, and know that diversity will make for better problem-solving and better bottom line results in the world of business, finance and law that lie ahead. Know how critical respect for a variety of cultures and identities is to the viability of democratic systems and governance.
Third, and above all, be mindful of the lessons of history. Democracy and social justice are not self-sustaining. Democracy and social justice are, instead, best understood as deliberate human attainments that may require sacrifice and involve nourishment from an engaged, thoughtful, well-educated citizen; a citizenry that must be on guard against those political figures who will exploit the difficult times to serve their own authority or enemies."
In his concluding remarks, Bobo told the graduands to confront the challenges before them and encouraged them to "go out and make sure this world returns to a path of realising that just, fair and promising future."
About Lawrence Bobo
Lawrence Bobo is a Harvard College Professor, the Dean of Social Science and the W. E. B. Du Bois Professor of Social Science at Harvard University. He holds tenured appointments in the Department of Sociology and the Department of African and African American Studies at Harvard and has served as Chair of the Department of African and African American Studies. His research focuses on the intersection of social psychology, social inequality, politics, and race.
Professor Bobo is an elected member of the National Academy of Science and of the American Philosophical Society. He is also an elected Fellow of both the American Academy of Arts and Sciences and of the American Association for the Advancement of Science.
A Guggenheim Fellow, an Alphonse M. Fletcher Sr. Fellow, a Fellow of the Centre for Advanced Study in the Behavioural Sciences, and a Russell Sage Foundation Visiting Scholar, Professor Bobo is also a member of the Board of Directors and Board Vice-Chair of the American Institutes for Research.
Professor Bobo has held tenured appointments in the sociology departments at the University of Wisconsin, the University of California, and Stanford University where he was the Martin Luther King Jr. Centennial Professor, Chair of the Program in African American Studies and Director of the Centre for Comparative Studies in Race and Ethnicity.
In 2012 he received the Cooley-Mead Award from the American Sociological Association for a Career of Distinguished Contributions to Social Psychology. His research has appeared in several prominent academic journals.
Professor Bobo is the co-author of the award winning book Racial Attitudes in America: Trends and Interpretations, senior editor of Prismatic Metropolis: Inequality in Los Angeles and his most recent book titled Prejudice in Politics: Group Position, Public Opinion, and the Wisconsin Treaty Rights Dispute was a finalist for the C. Wright Mills Award. He is currently working on the "Race, Crime, and Public Opinion" project as well as a book on "The Post-Racial Nation".