A love letter on death, memory and renewal
- Wits University
Wits SRC members were amongst graduands addressed by renowned author, Mandla Langa, who received an honorary doctorate in literature.
Student Representative Council (SRC) president, Sisanda Aluta Mbolekwa, SRC deputy president, Nkateko Muloiwa, and SRC deputy secretary general, Thaakirah Savahl graduated today from Wits University. The trio graduated with honours degrees in Journalism, Development Studies, and Politics respectively.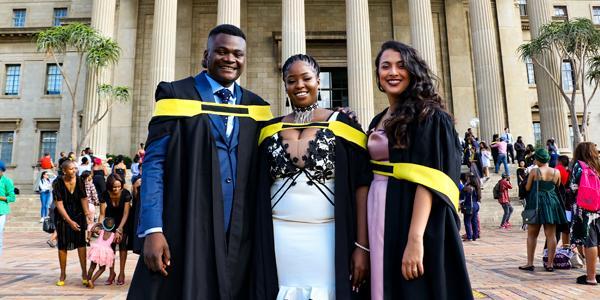 A student activist in the South African Students' Organisation at the University of Fort Hare in the 1980s, Mandla Langa delivered the keynote address at the Wits Faculty of Humanities graduation ceremony today where he received an honorary doctorate in recognition of his literary significance.
Death, memory and renewal
Langa paid tribute to Wits as respected institution with in impressive research output. Wit has been "a creative crucible for social activism", he said.
"I want you to reflect on how you are the repositories of new ideas. Whether it is in leadership in times of transformation, or on student activism – no one must claim credit or easy victories. All of you, collectively or as individuals, are fated to navigate the labyrinthine path towards coming up with solutions for an existential crisis of being in a post-apartheid dispensation with the architecture of inequality still in place
Langa and his brother, Bheki are the brothers of deceased siblings former Chief Justice Pius Langa, Benjamin Langa, and Thembelihle Langa, children of the late Reverend Simon Langa and Josephine Langa. On March 12, Langa had to exhume the remains of his family members from the KwaMashu cemetery, where the graves had fallen into ruin.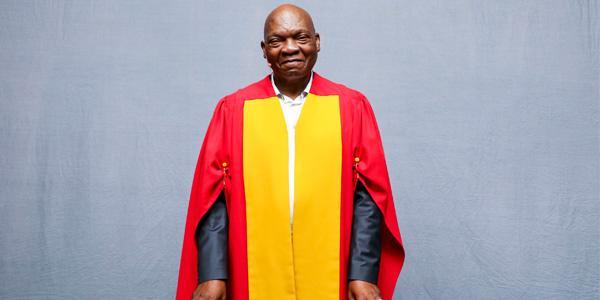 A love letter
"This talk is my love letter to you," Langa told graduands. "A love letter to remind you of where we come from, through sharing with you a story that is as intensely personal as it is political." He said that death, memory and renewal form a leitmotif for today's graduation talk – particularly "the redemptive power of memory".
Langa's brother, Ben, was shot dead in May 1984 because of infiltration by the apartheid state. "Ben was a victim of a fatal libel," said Langa, whom – in exile at the time – could not attend Ben's funeral. At the exhumation, Langa saw his brother had been buried in a black suit and purple bowtie, "which was so out of character as to be absurd."
"The absurdity became the starting point of the story about my brother's death … about the story I had struggled to tell because there had been too many filters … the archives from which I could draw inspiration lay in the bones."
Menaced by patriarchy
Langa confided that the death of his sister, Thembi, who died in childbirth in 1992, profoundly affected him. He reflected on what the experience of a black woman in the "unremittingly cruel years of apartheid cowardice, misogyny" might have been.
"I would be remiss if I didn't ask whether the lot of women today has improved from the times of my sister's death. I don't think we've invested all our intellectual, social and personal capital in addressing ourselves to what faces women. On campuses, on the street, in the workplace, at homes – in sports and academia – women are menaced by patriarchy and misguided notions of what it mean to be a man," said Langa.
'To have a home is not a favour'
Quoting the poet, Vangi Gantsho, Langa told graduands, "I expect more of you." Langa mentioned Cyclone Idai, which decimated parts of Mozambique, Zimbabwe and Harare earlier this month. He mentioned one Joaquin Joao Chidja, a Mozambican teenager who appeared on social media drying his family photos on the roof of a building in the town of Buzi. Langa referenced the boy because to leave him nameless gives in "to the wanton laziness that has also become part of this post-apartheid narrative about the outsider, the foreigner."
Quoting poet Keorapetse Kgositsile, Langa said, "Perhaps I should just borrow the rememberer's voice again while I can and say: to have a home is not a favour!"
Unfinished stories
Langa urged graduands to use their intellect to create a more sustainable world than the one they had inherited and to curb its destructive instinct. The way to do this was by first digging in the ground and unearthing that which is useful. He reminded graduands, "No one comes from nowhere. And we are, after all, students of the Humanities, academic studies undergirded by critical thinking."
"I believe our society is one of unfinished stories. You, the thinker and leaders of tomorrow, have to help us create institutions for the preservation of memory … death is not the end of existence nor is it only a doorway into another life … it is an invitation to reimagine the continuation of a life.
In telling the story that ennobles and enlarges others who are now silent and bereft of the faculty of speech, we will be ennobling and enlarging ourselves."
About Mandla Langa
Mandla Langa is one of South Africa's internationally acknowledged contemporary writers, cultural organisers and a veteran of the national liberation struggle. The complexity of his work reflects his enduring dedication to freedom and humanity and courageous critical self-reflection.
As a student at Fore Hare University, Langa was active in the South African Students' Organisation and his studies were disrupted by political strikes at the time. In 1976, he was arrested on a charge of trying to leave the country without a permit and was imprisoned for 101 days.
Here he "sharpened his pen to expose the evils of the [apartheid] system. He began to take his writing seriously, knowing that it served a very important role", according to the Presidency which awarded Langa the South African National Order of Ikhamanga in Silver in 2007 for his cultural, artistic and journalistic achievements.
Langa's works include The Dead Men Who Lost Their Bones (Drum story winner, 1980), poems The Tenderness of Blood (1987) and A Rainbow on a Paper Sky (1989).
In 2010, Langa received the Lifetime Achievement Award at the South African Literary Awards.
Most recently, Langa wrote Dare not Linger: The Presidential Years with the late Nelson Mandela, an excerpt of which was published in Wits' research magazine, Curios.ty, the MANDELA 100 issue.