Welcome to the good fight
- Wits University
Poet, activist, academic and traditional healer, Prof. Mongane Wally Serote spoke at the Faculty of Health Sciences graduation ceremony on 7 December.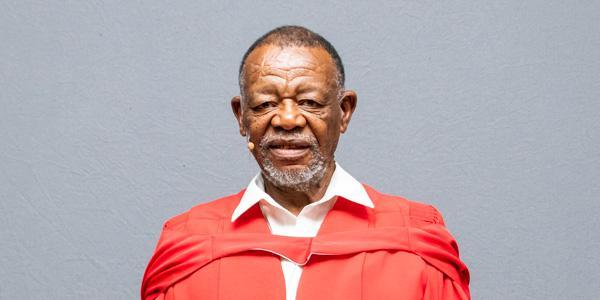 Serote received the National Poet Laureate Prize at the South African Literary Awards in November.
A poet laureate is a poet officially appointed by a government or conferring institution, typically expected to compose poems for special events and occasions.
Serote addressed the graduands as "unbreakable diamonds" who are "citizens who will contribute to the quality of life of our society".
Graduands are the "custodians of African knowledge, heritage and culture," said Serote. "Welcome to the good fight as you put your collective shoulder to the wheel."
Serote said that South Africa's freedom is sacrosanct and that freedom is not only a destination but also a future. This contextualised 'the good fight' to which Serote referred. "Tangible freedom is in our DNA as a nation," he said.
He urged the healthcare graduands – the best minds in South Africa who specialise in health – to "nurture longevity and quality of life" and encouraged a "traditional and professional revolution in the health sector".
About Mongane Wally Serote
Mongane Wally Serote was born in Sophiatown and educated in Soweto and later at Columbia University. His poems contain a strong element of political protest - he was tested to the limits of endurance in 1969 when he spent nine months in solitary confinement, although he was finally released without being charged.
His books of poetry include Tsetlo, which the apartheid government banned; No Baby Must Weep; Behold Mama; Flowers; and The Night Keeps Winking, amongst others. A Tough Tale and Third World Express are long poems, the former documenting the sufferings of black South Africans and envisioning apocalyptic change, the latter an affirmative extension of earlier sociocultural preoccupations. In 2008, the Africa Book Centre selected Third World Express as one of the 100 Best Books of the Twentieth Century by.
Serote has received numerous awards over the last five decades including the Ingrid Jonker Poetry Prize for the best debut collection in English, the Noma Award for publishing in Africa, the English Academy of Southern Africa Medal for contribution to the English language, and the Pablo Neruda Medal for Writing.
In 2007, the Presidency awarded Serote the National Order of Ikhamanga in Silver for his "excellent contribution to literature, with emphasis on poetry, and for putting his artistic talents at the service of democracy in South Africa".