Physicians are natural advocates of the poor
- Wits University
Patients are not "clients" and public healthcare is not "an industry" according to the recipient of the 2018 Gold Medal from Wits.
The University awarded Professor Kenneth Huddle its prestigious Gold Medal in recognition of his contribution to improving hospital services for the indigent in Soweto and southern Gauteng and for teaching generations of Wits medical students over 40 years.
Huddle delivered the keynote address at the Faculty of Health Sciences graduation ceremony on Friday, 7 December 2018.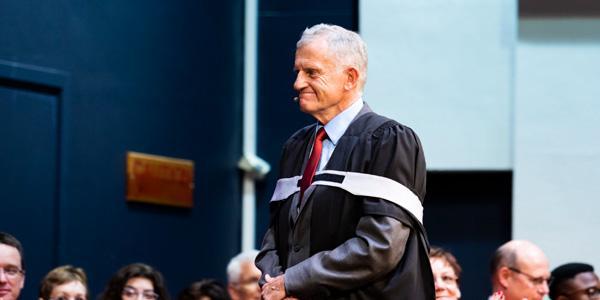 What can be achieved in the public health system
Huddle said he has a "special affinity" for Health Sciences graduands, honed over 40 years of teaching at the University and as Chief Specialist and Professor of Internal Medicine from 1990 until his retirement in 2015.
He shared an anecdote about a medical emergency he encountered at Bara, which demonstrates "what can be achieved in the public health system":
He shared the tale of a brilliant and promising 16-year-old boy from Pampierstand in the Northern Cape. The boy began experiencing elevated blood pressure and episodes of debilitating feelings of impending doom. An astute nurse in his hometown recognised the symptoms as something ominous and referred the boy to a specialist.
The boy ultimately ended up at Bara where specialists conducted tests, which revealed a tumour by his adrenal gland. Urgent surgery was recommended in consultation with the patient, his parents, and specialists in surgery and anaesthesia. The surgery saved the boy's life. He later contacted his doctor to report that the nasty spells were over and he could focus on schoolwork.
Teamwork, collaboration, and consent
Huddle's anecdote demonstrates the importance of teamwork amongst competent healthcare professionals treating patients in an enabling environment. It began with an astute nurse who had the foresight to refer to a specialist, where other experts in pathology, radiology, research, and surgery all played their role in diagnosis and treatment.
"The sleuth work of medicine is what makes it so important and so much fun," said Huddle. "One doctor cannot possess all the knowledge and skills". He emphasised the importance of involving the patient and his family in the diagnosis and treatment and the concept of informed consent.
Despite the success of this case, however, the majority of public health care services are "patchy", said Huddle. He urged graduands to remember their Hippocratic Oath and quoted, "Physicians are natural advocates of the poor" and that this fundamental trust between a physician and a patient should not be compromised.
Patients as people
Huddle decries the reference to patients today as "clients" and the public healthcare as "an industry".
He said medicine is "a noble profession dedicated to servicing those in distress."
Citation for Professor Kenneth Robert Lind Huddle
Professor Kenneth Huddle was born and educated in Johannesburg. He completed his undergraduate medical studies at Wits (MBBCh, 1974) and qualified as a Specialist Physician in 1980. For most of his professional life, spanning more than four decades, Huddle was based at Chris Hani Baragwanath Academic Hospital, where he was Chief Specialist and Professor of Internal Medicine at Wits from 1990 until his retirement in 2015.
He made major contributions to improving healthcare services for the indigent of Soweto and southern Gauteng and training undergraduate medical students and postgraduate registrars in Internal Medicine. He served on several hospital committees and played an active role in academic administration of the Department of Internal Medicine and Faculty of Health Sciences at Wits.
An accomplished and astute clinician, Huddle's passion for bedside teaching benefitted innumerable medical students and medical registrars and contributed to the high throughput of specialist physicians at Wits. For this, he has received numerous accolades and awards, including the Wits Medical Students' Council 1997 Daubenton Clinical Award for "the clinician who makes the greatest contribution to students, inspires his students and leads by example in patient care and knowledge acquired."
Other awards are the FJ Milne Department of Medicine Distinguished Teaching and Service Award in 2001, and the Phillip V. Tobias and Convocation Award for distinguished teaching in the Faculty of Health Sciences in 2007.
During his tenure as Clinical Head of Department at Chris Hani Baragwanath Academic Hospital, the Department of Internal Medicine grew from approximately 15 specialist physicians with mainly general medicine expertise, to a fully-fledged tertiary service, with more than 40 specialist physicians, most with subspecialty qualifications. Today, Chris Hani Baragwanath Academic Hospital boasts specialist services in Cardiology, Pulmonology, Nephrology, Neurology, Clinical Haematology, Infectious Diseases, Endocrinology, and Rheumatology.
Apart from overseeing the general affairs of the department, Huddle had a special interest in endocrinology, and, more specifically in diabetes care. He initiated a diabetic service for pregnant women, which has vastly improved both mother and child outcomes in pregnant diabetics. For his work, he was awarded the Novartis Diabetes Award in 2007 and the Lifetime Achievement Award from the Society for Endocrinology, Metabolism, and Diabetes of Southern Africa, in 2015. His general contribution to Medicine was recognised by the South African Medical Association with the Extraordinary Service to Medicine award in 2013.
As a patient advocate, he constantly engaged the health authorities to improve access to quality in-patient care at Chris Hani Baragwanath Academic Hospital. Together with Professor David Blumsohn and other senior physicians, he campaigned to alleviate the overcrowding and poor conditions for patient care at Baragwanath Hospital in the 1980s. When the hospital authorities failed to respond, a letter was published in the South African Medical Journal, co-signed by 101 doctors – of whom Huddle was one - to highlight the desperate conditions at the hospital. He also endeavoured to improve health services at the regional hospital and initiated an outreach programme in Internal Medicine at Sebokeng Hospital. Today, the hospital has a fully-fledged Internal Medicine department with specialists in critical care.
Following the loss of his wife to cancer, he lobbied for the establishment of a Palliative Care Service at Chris Hani Baragwanath Hospital, the first of its kind in a state health facility, to ease the suffering of terminally ill patients. He was honoured with the Joe Veriava Bioethics Medal in 2012.
Another strong attribute is his administrative skills. Apart from departmental duties, he was involved in the hospital administration as a member and as Chair of the Medical Advisory Committee at the hospital from 1995 to 2004. In the Wits Faculty of Health Sciences, he was a member of several standing committees, and was for a time, chair of the Professional and Ethical Standards Committee and the Nominations Committee. At the College of Physicians of South Africa, he was initially secretary and then president. Wearing his Endocrinology hat, he served as secretary and president of the Society for Endocrinology, Metabolism, and Diabetes of Southern Africa.
In spite of his huge clinical and administrative responsibilities, Professor Huddle found time to contribute to clinical research focusing mainly on pregnancy and diabetes and the rare medical disorder, Phaeochromocytoma and he supervised a number of Master's students.
Professor Huddle is quintessentially a family man who has managed to balance his prodigious work output with holding together a family of young children despite the early passing of his wife.
His paternal qualities extend to giving more of his guidance and time to his alma mater, King Edward VII School where the likes of Donald Gordon and William Kentridge were past pupils. There Huddle served on the governing body as chairman.
Huddle's calm studied approach endured through turbulent times at the Chris Hani Baragwanath Hospital. In the heated debates about doctors going on strike for better wages and working conditions, Professor Huddle managed to keep the staff and hospital on an even keel, reminding them of their oath to help the sick, while still voicing a righteous displeasure against what seemed unjust for doctors.
Given his outstanding academic citizenry in serving the University and community of greater Soweto, Professor Ken Huddle is a worthy recipient of the University Gold Medal.