March 2018 Wits grads
- Wits University
Almost 5 000 students to be capped during the 2018 March graduation season.
Almost 5 000 Wits students will reap the fruits of their hard work when they walk across the stage of the Wits Great Hall during the first cluster of the University's 2018 graduation ceremonies.
"Graduation ceremonies are special moments as they celebrate the culmination of years of commitment and achievement on the part of students, academics, families and communities. It is also the apex of new knowledge creation and the introduction of high-level skills that will impact positively on society and the economy and ultimately enhance the public good," says Professor Tawana Kupe, Acting Vice-Chancellor and Principal of the University of the Witwatersrand.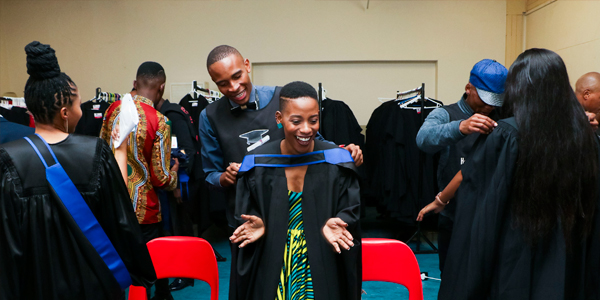 Wits graduates were voted most employable in South Africa by directors and recruiters. The Global Employability Survey and Ranking 2017, which measures the employability of graduates and employer satisfaction with graduates, found that directors and talent management specialists are highly satisfied with Wits University graduates.
As part of its Vision 2022 Strategy, Wits is transforming into a research-intensive University and aims to significantly increase the number of postgraduate students at the University by 2022, its centennial year. There has already been an increase of over 80 masters graduates this year compared to the March 2017 graduation season.
Seventeen graduation ceremonies are scheduled for the first cluster which runs from today until Thursday, 29 March 2018.
A total of 252 masters degrees, 691 honours degrees and 3 413 bachelors degrees, and 548 diplomas will be conferred this season. This graduation season will also be a momentous occasion for Wits staff members Mr Johannes Mogotsi and his wife, Elizabeth, when they receive their Bachelor of Arts degree certificates. The Mogotsi's will be capped on 27 March 2018 during the 17:00 Faculty of Humanities graduation ceremony.
Speakers at the graduation ceremonies in March 2018 include:
Mr Tony Frost: Wits alumnus, educator, athletics coach, author, corporate and social leader,
Mr Ian Russell: Corporate leader and CEO of BCX,
Ms Hilary Joffe: Editor-at-large, Business Day,
Ms Yasmin Carrim: Attorney with right of appearance in the High Court of South Africa,
Mr Michael Sachs: Adjunct Professor in the Wits School of Governance and former National Treasury's Deputy Director General of the Budget Office ,
Professor Eddie Webster: Emeritus Professor in Sociology at Wits University,
Ms Michelle Le Roux: Advocate at Group 621,
Professor Trevor Sehoole: Dean in the Faculty of Education at the University of Pretoria,
Professor Beverley Thaver: Professor in Higher Education Studies at the University of the Western Cape,

Mr Ivor Chipkin: Executive Director of the Public Affairs Research Institute

,

Mr Shashi Hansjee: Chief Executive Officer at Entelect, and
Ms Lesley Williams: CEO of the Wits Tshimologong Digital Innovation Precinct

.