Double grad celebration for Wits duo
- Wits University
Wits staff members Johannes Mogotsi and his wife, Elizabeth Mogotsi graduate with Bachelor of Arts degrees during same graduation ceremony.
Family support is central to student success. The culmination of years of hard work is an achievement worth celebrating for many families. The March 2018 graduation season at Wits University has seen families travelling across the country and abroad to celebrate and witness the graduands' crowning moment
Yesterday, 27 March 2018 was a momentous family occasion for Wits staff members Johannes Mogotsi and his wife, Elizabeth Mogotsi, when they both conquered the "Wits edge".
The couple both graduated with their Bachelor of Arts degrees yesterday, during the second Faculty of Humanities graduation ceremony of this seaon. They both obtained their degrees through the Wits Plus, Centre for Part Time Studies.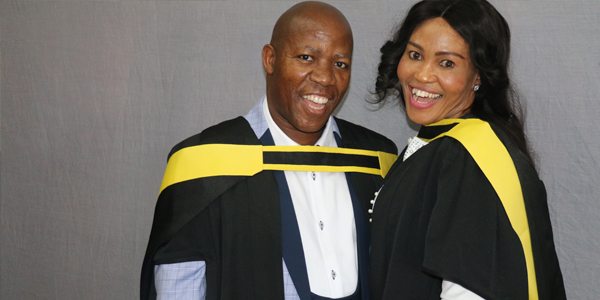 While most students seek support and encouragement from their partners, friends and family, the Mogotsi's decided to motivate each other by studying together. Johannes works at the Wits Centre for Part Studies as an Administrative Assistant and part of his job entails counselling students. He says was inspired by the number of people who had successfully completed their studies through the Centre.
"I was inspired to counsel people about the road that I have walked. It makes sense when you tell people about the road you have walked and know about."
Like her husband, Elizabeth was motivated to study by her current job at the Examinations and Graduations Office (EGO) at Wits University so she could fully represent that office.
"Sometimes during graduations, I would need to usher in graduands, and because I did not have a qualification, I could not wear a gown. This did not make sense to me. When I first started at EGO, we used to wear gowns and people would congratulate me for graduating whereas I was not. So, I felt the need to study so I can get real compliments."
Elizabeth, who last studied in 1993 before registering in Wits in 2013, says that studying after so many years was challenging. The pair says that they both set a target to complete their studies together, and constantly had to push each other.
Time management was instrumental to reach this target, says Johannes.
"You need to manage your time properly. Studying while you are working is difficult. You have to be able to manage your time and juggle between work and school."
Johannes says that he received a lot of support from his manager, Johan Swanepoel, Director of the Wits Centre for Part Time Studies, who was one of the people who encouraged him to study. Swanepoel, says that "the underlying principle of Wits Plus' existence is that of creating access into Wits for those who previously could not study for various reasons".
"It is about recognising the potential in people, creating an opportunity and then awarding them for being willing and committed enough to make the best of it."
He expressed his pride about Johannes for successfully completing his studies.
"After years of assisting others to realise their dreams, he deserved to be offered the same opportunity. He still had to commit and do the hard work himself, which he did. The way that he did this, was remarkable. He just went about his business quietly and in a determined way. It should be noted that he never failed a single course – which is a wonderful achievement. I can only say that I am extremely proud of Johannes!"
The pair is currently pursuing a Postgraduate Diploma in Management at the Wits Business School. Johannes hopes to venture into management and believes his "degree is a bridge to a managerial position". He hopes to study towards a Masters in Management next year."
Studying together came with a lot of sacrifices for the Mogotsi's. Elizabeth says that these days she does not have many friends as she had to sacrifice her social time for her studies and miss out on some family functions. She attributes her success to her strong belief in God.
They were both ecstatic yesterday for sharing a special moment when they graduated in the presence of family members and their two kids.