The world's problems are because of a lack of appropriate leaders
- Wits University
Former Public Protector, Thuli Madonsela, receives an honorary doctorate from Wits.
Former Public Protector, Advocate Thuli Madonsela, said a lot of the challenges that we face today is not so much because of the lack of leadership, but in the lack of appropriate leaders.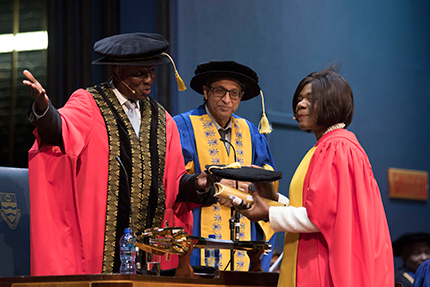 Addressing graduands at the Graduation Ceremony for the Faculty of Commerce, Law and Management at the University of the Witwatersrand on Tuesday, Madonsela – who received an honorary doctorate in law from the University – said that in order for our democracy to remain functional and sustainable, the rule of law must be the default position.
"I also believe that for the rule of law and democracy to survive, we need appropriate leaders," she said.
"Appropriate leaders understand that the burden of leadership involves an awareness that the burden of leadership includes an understanding that both what you do and say matter, and what you do not do or say matter regarding influencing others in believing and achieving something."
Appropriate leaders know that it is not just their commands or directives that determine where others go, but also their actions. "Above all, appropriate leaders influence and inspire people to do what will take them to the future that they aspire to. They don't pronounce one future but do something else."
Madonsela praised late struggle stalwart, Ahmed Kathrada, who passed away on Tuesday, saying that he was an "appropriate leader". "We lost such a leader this morning. Before democracy, he was one of the leaders who was imprisoned for asking for an inclusive South Africa, where the colour of a person was no justification for privileges or disadvantage," she said.
"After that, he has persistently called for a South Africa that is inclusive. He has fought against racism, fought against corruption and fought against maladministration. Why I regard him as an appropriate leader, is that he is somebody that has walked the talk. When he has spoken about selfless leadership, he didn't take the lion's share of our limited resources for his own comfort."
This was Madonsela's fifth honorary doctorate, but, she said, one that holds a special place, as Wits was one of her forming grounds as a lawyer. "We do our work because we must. We give everything we do our best shot out of love," she said.
Read the Thuli Madonsela citation
Read the Thuli Madonsela Speech
Madonsela is one of six recipients of honorary doctorate degrees in Wits' first graduation cluster for 2017, which runs from 23 March to 31 March. The other recipients of honorary doctorate degrees are business leaders Patrice Motsepe and Adrian Gore, Professor Dale Harvey, Patricia Horn and Professor Eddie Webster. More than 5 000 students will be capped during this period.
Madonsela received her BA in Law at the University of Swaziland in 1987, after which she completed an LLB at Wits in 1990. She joined the Centre for Applied Legal Studies at Wits University as a Ford Foundation intern in 1992 ad then joined its Gender Research Project from 1993 to 1995. Madonsela was particularly involved in labour law issues and in working with women in trade unions, as well as constitutional issues. She was so involved with South African constitutional issues, that she had to forfeit a Harvard scholarship to remain engaged on these issues in the country.
In 2007, Madonsela was appointed as the full-time member of the South African Law Reform Commission, by President Thabo Mbeki. She served on the SALRC until 2009 when she was appointed as Public Protector of South Africa by President Jacob Zuma for a non-renewable seven-year term (commencing 19 October 2009). She was unanimously supported for this position by the multi-party National Assembly. At the announcement of her appointment, Zuma said that Madonsela 'will need to ensure that this office continues to be accessible to ordinary citizens and undertakes its work without fear or favour'.
She likens her role as Public Protector to the Venda chief's paternal aunt, known as the makhadzi – a non-political figure who 'gives the people a voice while giving the traditional leader a conscience'. In particular, it has been her willingness to 'speak truth to power', to defend the integrity of her Office and to hold even the most senior government officials to account that has won her the lasting respect and affection of the nation.