Gearing up for a big future in community health
- Wits University
Wits University has awarded an honorary doctorate to Professor John Gear, who introduced the concept of primary health care at his Alma Mater in 1979.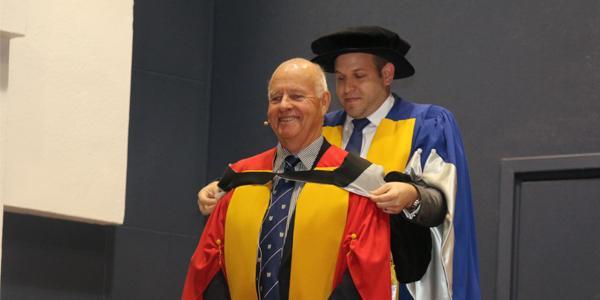 At that time primary health care was a new approach globally advocated by the Alma Alta Declaration of 1978 and the World Health Organization. South Africa was excluded due to apartheid and Gear was instrumental in advancing primary health care here.
He was inaugural chair of Community Health at Wits in 1979 – then the youngest full professor in the faculty – and academic director of the Wits Rural Facility from 1989 to 1997.
Gear delivered the keynote address at the Faculty of Health Sciences graduation ceremony on Thursday, December 7, 2017.
Big futures and your own
He said the 'big future' that graduates would encounter includes obesity and the consequent chronic disease, drug abuse, he ethics of birth control, euthanasia and assisted suicide and the implementation of a National Health Insurance Scheme and its affordability.
"However, today we focus not on the big future but rather on individual futures because it is out of your personal futures that the 'big future' emerges," Gear said.
These individual futures hold unlimited possibilities and will be rewarding and challenging, disappointing and joyful, and occasionally regretful and doubtful, he said.
"But remember, much of of your futures will be determined not by fate, but by you. You will determine your own future."
The imperative of privilege
Gear emphasized that giving back to society was a social imperative that comes with the privilege of any professional qualification. Gear described the concept of two strong and often competing characteristics in human beings. The first characteristic relates to altruism/compassion/caring, while the second relates to selfishness.
Gear outlined four possible (healthcare sector-related) scenarios in which graduates would likely find themselves in future.
"You will experience scenarios such as these on a daily basis; your responses will become predictable. You will develop patterns of behavior. These two contrasting characteristics will determine how you pursue your professional careers and how you sleep at night," said Gear.
Who shall live and who shall die
Gear recounted how he delivered a lecture in Wits' Great Hall 33 years ago entitled, Who shall live and who shall die. The speech was about resource allocation, apartheid health care and curriculum content.
"I argued that patients were living or dying based on skin colour, resource allocation and availability of appropriate skills. Today, those inequities are being addressed," said Gear, citing improvements in improved curricula strong in primary health care, family and rural medicine, two-year internships, community service, more equitable resource allocation, and skills better matched to need.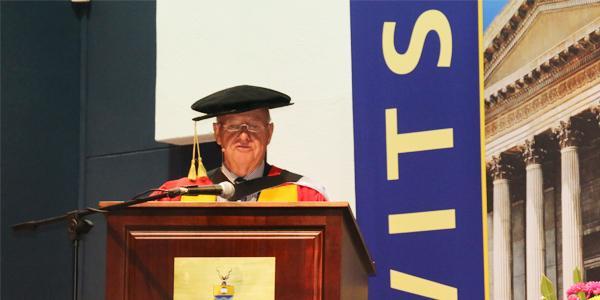 "Who shall live and who shall die is now being determined largely by practitioner behaviour, not by practitioner knowledge. Our 'high-grade selfishness' [characteristic gene] is taking over – money, laziness, irresponsibility, greed and corruption have become the modern scourges for practising health professionals," said Gear.
Urging graduates to be vigilant, Gear challenged them to exercise their choice between caring and selfish practice and to commit to the "90:10:0" credo. This refers to:
90% of altruism (caring with compassion and conscientiousness for your patients).
10% of 'low grade' selfishness (caring for yourself – critical for self-preservation and delivering services
0 % of 'high grade' selfishness (poor work ethic, moonlighting when fully employed, preferential treatment for private patients, apathy to corruption)
Gear concluded: "Wits is your home, Wits is my home, Wits is our home. We are hugely privileged to have a Wits degree. Today we say not goodbye, but thank you. Never betray the significance of becoming a doctor and the responsibilities bestowed on you today. There is much to be done."
About Professor John Gear
Gear is an alumnus of the Wits Faculty of Health Sciences. He holds a Bachelor of Science degree (1963), an MBBCh (1967), a diploma in public health (1972), and a diploma in tropical medicine and hygiene (1979), from the University of the Witwatersrand and a DPhil from Oxford University (1979).
Gear introduced the concept of primary health care at Wits University in 1979. Under his leadership, the Centre for Health Policy was established in 1987 to support the development of post-apartheid health policy and a unified health system. In 1981, he established the Health Systems Development Unit at Tintswalo Hospital in the former homeland of Gazankulu, now Mpumalanga Province. The unit carried out pioneering work which has since been taken further by the MRC/Wits Rural Public Health and Health Transitions Research Unit at Agincourt.
From 1986 Gear began conversations within the University community about this project. In 1989 the Wits Rural Facility was established with Gear as its Academic Director, a post he held until 1998. He raised significant grant-funding for the Facility and worked tirelessly to secure the participation of the majority of faculties at Wits.
About the Wits Rural Facility
The mission of the Wits Rural Facility is that "the University should, through a permanent presence in a rural area, create a multidisciplinary and interdisciplinary endeavour contributing to the development of such areas; informing society of rural needs; providing experiential community-based learning; alerting graduates to the challenges and rewards of working in rural areas; and benefiting both immediate communities and society as a whole…at all times informed by the principles of justice and equity."
Under Professor Gear's leadership, by 1993 the Wits Rural Facility boasted a range of outreach interdisciplinary programmes staffed by 23 fulltime donor-funded academics.
Gear's service to public health was recognised with the silver medal of the Community Health Association of South Africa in 1984, the Wits Faculty of Health Sciences Exceptional Service Medal in 2012 and the Public Health Innovation and Lifetime Achievement Award in 2013 from the Public Health Association of South Africa.