Demanding jobs and being a student
- Wits University
Holding down three demanding roles or more is a reality for many of the students pursuing higher degrees.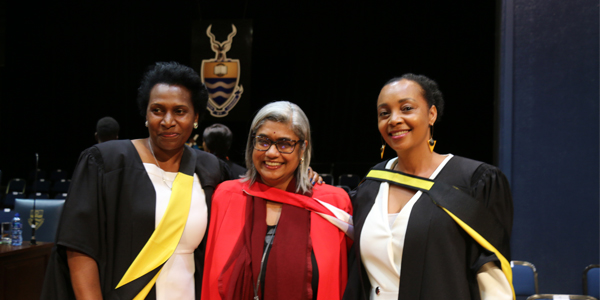 The road is full of upheavals and takes more than courage to get to the finish line – ask the mature graduates breathing a sigh of relief as they enter the Great Hall on their graduation day this week at Wits University
Dimakatso Mashiane, Deputy Director of Employee Wellness and Health at the Office of the Premier, Gauteng is one of many such graduates
Mashiane graduated with a Masters of Arts (M.A) in Occupational Social Work on Tuesday, 5 December 2017.
Surrounded by her family, Mashiane attributed her success to her supportive husband and her three children aged 27, 17 and 14 years old.
This sentiment was shared by her long-time friend, Precious Magogodi, Head of Programmes at Love Life who also graduated with a master's degree in the same field yesterday. The two met many years ago during their undergraduate studies at Wits.
"It has been a journey and a half. It humbles you in many ways, you grow and it gives you that spirit of resilience."
"There were times when she felt like throwing in the towel and would convince herself that the qualification "is not worth it, it's just a piece of paper". However, this would be dispelled later by resilience and the desire for self-affirmation would kick in and propel her to persevere.
"My dissertation was dedicated to the spirit of strong women", she says.
"I really wanted to acknowledge what today's women face in terms of the multiple roles that we play. There are a lot of expectations and the need to succeed in all realms of life," says Magogodi who is a mother of two, wife and sister to many.
A huge pillar of support for both was their supervisor Dr Roshini Pillay whose persistent emails enquiring about progress on the research reports served as encouragement during moments of doubt.
Magogodi's dissertation examined The Use of online text based technologies as a medium for employee counselling: perceptions of online counsellors. Mashaine looked at The Perceptions of Health and Wellness Programme Coordinators on the implementation of programmes in the Gauteng governments departments between 2012 and 2014.
With her new qualification, Mashaine feels that her expertise have been strengthened.
She believes that the M.A in Occupational Social Work degree helps one to understand employees within an occupational setting and equips practitioners with relevant tools that help organisations to better assist their employees to have healthier and productive lives.
"As an occupational social worker it is my role to engage and understand the needs, strategies that will assist not only employees but also the organisation," she says.
Public sector employees are in the front of service delivery and yet they tend to be forgotten. However, Mashaine is committed to making a difference and ploughing all her skills in improving employee programmes in her space.
It is widely acknowledged that acquiring a postgraduate degree is essential in today's world which dependent on specialist knowledge and skills. More than 830 graduates have graduated with postgraduate degrees from the Faculty of Humanities since March 2017. Wits seeks to increase its postgraduate enrolment target to 45% by 2022. To achieve this the University is implementing several incentives to attract postgraduates students including substantial financial support, improved student supervision etc.