A life servicing many generations
- Wits University
An honorary doctorate for seasoned activist and lecturer, Professor Eddie Webster, who pioneered the study of labour in South Africa.
Wits University has awarded Professor Webster an Honorary Doctorate in Literature for his scholarly contributions, commitment and advancement of democracy through labour activism and nurturing several generations of leading labour sociologists.
Webster accepted the honour on 30 March at a graduation ceremony of the Faculty of Humanities, where he delivered the keynote address.
His talk, titled At the chalk face: three generations of Wits students reflected on critical moments in the country through the generations that he has taught.
The 1976 generation, the 1994 generation and the 2009 to the 2015/2016 Fees Must Fall generation have all imparted valuable lessons to him, said Webster who has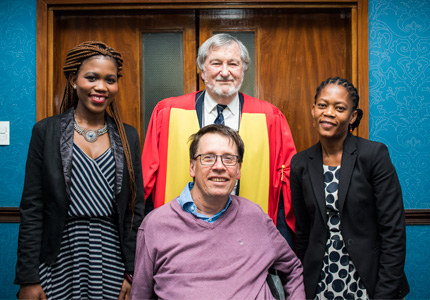 taught at Wits for 40 years and built an illustrious career.
Focusing on the current generation, Webster said: "At times it may seem that a generation has emerged that has disowned the past. But generational rebellion is an enduring feature of all societies; indeed it is the dynamic through which societies renew themselves and move forward."
Webster called on the graduating class of 2017 to make real the call that has echoed through the decades from the times of Robert Sobukwe to decolonise institutions of higher learning.
"This does not mean that we drop Shakespeare from our curriculum," he said.
Speaking directly to the graduands Webster said: "Your mission is to become the authors of the books the next generation of students read, the articles they cite, and the theories that shape their thinking."
Institutions of higher learning in turn have a role to play by building trust and mutual respect between the generations.
"We need to make our classrooms places where our students are not only the consumers of knowledge. Teaching is an interactive process. While the teacher educates the student, the student educates the teacher too." Speech by Professor Eddie Webster
About Prof. Edward (Eddie) Webster
Webster is currently Professor Emeritus in the Society, Work and Development Institute (SWOP) at Wits which he founded over 30 years ago. He is recognised locally and internationally for his significant contribution to scholarship, especially in the field of Industrial Sociology.
He was born in March 1942 and educated Selbourne College. He holds a BA Honours and a University Education Diploma from Rhodes University, a Master's in Politics, Philosophy and Economics from Oxford University, England, a BPhil from York University, England, and PhD from Wits University.
He joined Wits in 1976 and was active in efforts to transform the University. He led the writing of the historic research report by Wits academics in 1986 titled Perspectives of Wits, which was aimed at changing the University from a bastion of white privilege to a more open and inclusive institution that would produce a new generation of black sociologists committed to serving society. He served as senate representative on the University Council for eight years and contributed to the resolution of many highly contentious issues and debates.
As Head of Department of Sociology at Wits he focused on transformation of the curriculum and staff development (particularly of young, African scholars). Webster transformed it into the leading department of sociology in Africa. He introduced a master's by course work and an honours programme in Industrial Sociology, which has produced many of the key industrial relations scholars and activists in South Africa. Professor Webster founded, and was Director of SWOP for 24 years.
Professor Webster was rated in 2004 as the top sociologist in South Africa by the National Research Foundation (NRF) for his scholarly work. He is the author of seven books and 108 academic articles, as well as numerous research reports. His book with Rob Lambert and Andries Bezuidenhout, Grounding globalization: Labor in the age of insecurity was awarded the prestigious American Sociological Association award for the best scholarly monograph published on labour in 2008.