Reinvent yourself and remain relevant
- Wits University
Professor Cuthbert Musingwini urges graduands to continue learning and to remain relevant throughout their future careers.
Musingwini is the President of the Southern African Institute of Mining and Metallurgy, a Professor of Mining Engineering and Head of the School of Mining Engineering at Wits University.
He was addressing graduands at the Faculty of Engineering and the Built Environment graduation ceremony on 13 December 2016.
Professor Musingwini has over 20 years of mining engineering experience in mine production management and planning, consulting and academia.
He occasionally serves as a consultant specialising in mining business optimisation and valuation.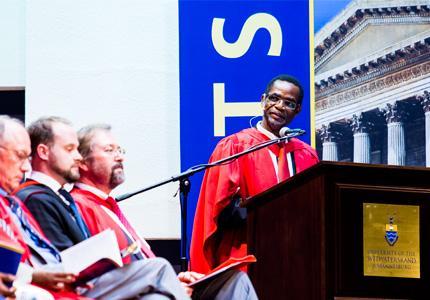 He holds a BSc Honours degree in Mining Engineering from the University of Zimbabwe.
He obtained his Masters and Doctoral degrees in mining engineering from Wits University.
Professor Musingwini is registered as a professional mining engineer with the Engineering Council of South Africa, is a member of the International Society of Mining Professors and is a National Research Foundation rated researcher.
He has supervised to graduation several postgraduate students and is occasionally called upon to examine PhD theses in mine planning optimisation and valuation for the University of Queensland and Curtin University in Australia.
Professor Musingwini has served on the Netherlands Initiative for Capacity Development in Higher Education for capacity building projects in Zambia and Mozambique.
He serves on the Engineering Council of South Africa's Professional Advisory Committee and Engineering Programme Accreditation Committee, which is responsible for accrediting engineering degree programmes following the internationally recognised Washington Accord.
He is the Managing Editor of the International Journal of Mining, Reclamation and Environment and serves on the Editorial Board of the Journal of the Southern African Institute of Mining and Metallurgy.
He also chaired the Mine Planning and Equipment Selection conference, held for the first time in South Africa in 2015.
Professor Musingwini is passionate about developing others and believes that a good education is the key to success in life.