Legendary photographer awarded Honorary Doctorate
- Wits University
Santu Mofokeng documented life in South Africa and the struggle against Apartheid.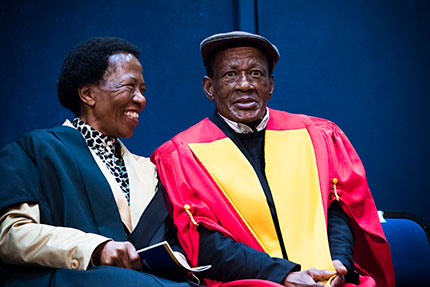 Legendary South African documentary photographer Santu Mofokeng was honoured with an Honorary Doctorate from Wits University on Monday, 4 July.
Mofokeng, 60, was born in Soweto and began his career as a street photographer before gaining employment as an assistant in a darkroom. While working as a darkroom assistant, he started documenting events taking place in South Africa. In 1985 he joined the Afrapix Collective and started shooting pictures of the anti-apartheid struggle.
Two years later, in 1987 he was appointed at the New Nation newspaper. From 1988 to 1998 he worked as a documentary photographer and researcher for the African Studies Institute's Oral History Project, at the University of the Witwatersrand, and focused on producing images representing the lives of people in their homes and other aspects of daily life.
His first solo exhibition, Like Shifting Sand, for which he received an AA Vita Award Nomination, took place in 1990 at the Market Theatre Galleries in Johannesburg. This was followed in 1991 by the Ernest Cole Scholarship to study at the International Center of Photography in New York, USA, the world's leading institution dedicated to the study of photography.
While working at Afrapix in 1992 he received the 1st Mother Jones Award for Africa – a grant made to outstanding world photographers covering social issues. The award marked the beginning of international recognition and critical acclaim for Mofokeng's work.
In 1997 he exhibited the Chasing Shadows body of work at the Gertrude Posel Gallery, University of the Witwatersrand, and was subsequently short-listed
for the FNB Vita Award for the Visual Arts.
Further international recognition followed in 1998 with the Künstlerhaus Worpswede Fellowship in Germany. The ground-breaking The Black Photo Album/Look at Me body of work was exhibited in Rotterdam, Holland, in the same year and then again in Paris, France, in 1999.
Further recognition followed in 1999 when he was awarded the Contre Jour Residency, in Marseille, France. Two DAAD Fellowships, one in Worpswede and the other in Berlin were awarded to Mofokeng in 1999 and 2001 respectively.
In 2007 he received the Ruth First Fellowship. While recognition on an international stage continued it was not until the Invoice exhibition at the Standard Bank Gallery, Johannesburg, in 2007, that a wider South African audience became more familiar with his work. In 2009 he was awarded a Laureate by the Prince Claus Fund, Netherlands.
His first international retrospective, Chasing Shadows/Santu Mofokeng, thirty years of photographic essays, took place at the Jeu de Paume Gallery in Paris, France in 2011. In March 2016, Mofokeng was awarded the International Photography Prize 2016.
In addition to 25 one person shows between 1990 and 2016, Mofokeng has exhibited on numerous group shows across the world, including Documenta 11 in Kassel, Germany and the 25th Sao Paulo Biennial, Brazil, in 2002, and the Venice Biennial in 2007 and 2013. His work has featured at further biennials and exhibitions in many countries including South Korea, the United Arab Emirates, Taiwan and China.