Black lines and blank spaces
- Wits University
Professor Anton Harber advised graduands of the Faculty of Humanities to choose their friends, battles, and enemies wisely.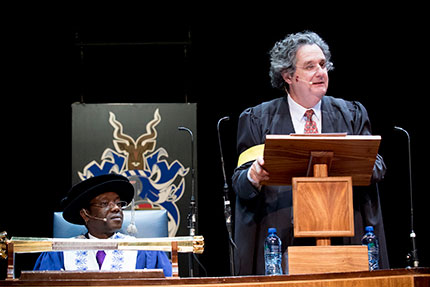 When the Rand Daily Mail, where Professor Anton Harber used to work as a political reporter, got closed down by the Apartheid government in 1985, he and a colleague decided to start their own newspaper.
They had to jump through more than just the proverbial hoop to get their new paper off the ground, and, of course, everybody said that they were mad, but the Weekly Mail (Now the Mail and Guardian), turned out to be the most critical voice against the government and State censorship at the time.
It wasn't long before the Security Police set their sights on the Weekly Mail and confiscated the whole printing run of the publication. Harber and his colleagues were devastated. They thought they were broken, that their paper was going down the drain.
But the next week, they told their journalists to cover the news as it should be. To go out, and not feel restrained by any censorship laws, and just write the news as it happened.
"The journalists did that with great eagerness," Harber says. "But when the lawyers arrived, they put their red pens through every second word or line. Whole pictures and stories (were scrapped). Headlines, captions (were crossed out). They just said 'you can't use this', 'you can't say this', 'you can't shot that'."
Harber and his colleagues knew that they were in trouble, as they hardly had a newspaper to print.
But they then decided to turn the problem into a solution.
"We took a thick black pen, and drew a line through every word, phrase, sentence or story that the lawyers said would be problematic."
The newspaper was printed with black lines crossing out whole sections. Pictures that were illegal were removed completely.
"It was bold. It was daring, and it was risky," Harber says. "We were absolutely certain, when we went to bed that night, that it would be the last newspaper that we would ever produce because it was just too cheeky and provocative."
But when the Security Police arrived the next morning, they looked at the paper and noted that we had appeared to have complied with the law.
"What they didn't realise, was that what we have created, with those massive black lines and blank spaces, was the most graphic and powerful representation of censorship. It displayed for all the world to see, how much has been hidden from them."
That edition of the Weekly Mail featured on the front pages of various newspapers around the world. It became a collector's item, and the next day, newspaper vendors were selling it at R50 a copy.
Harber told this story to inspire the graduands of the Wits Faculty of Humanities on Monday, 4 July, to be brave, break out of the norm, and "get out of the pack", in their careers.
"You can turn tough situations into opportunities to exercise and celebrate your freedom," he said. "Always ask the tough questions – even of yourself – and be sceptical of the answers you get. Find your boldness, with passion, creativity, and imagination. Choose your battles carefully. Choose your friends even more carefully, but most of all, make a careful choice of the right enemies."