FALF leads the way in deepening the knowledge project
- Wits University
Launched just three years ago, the Female Academic Leaders Fellowship (FALF) programme is steadily expanding the knowledge legacy of South Africa.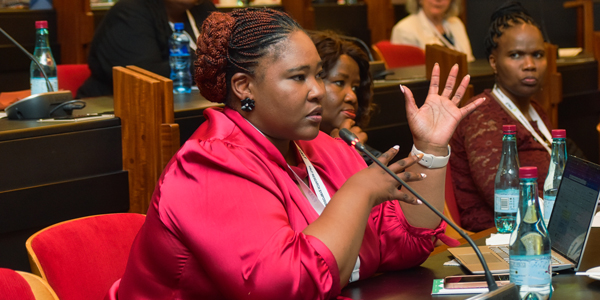 The FALF programme, an initiative which enables women to rise through the ranks of academia and play a meaningful role as knowledge producers in higher education, held its second research symposium to showcase the work of the fellows.
Opening the symposium, Wits Chancellor and Founder of FALF Dr Judy Dlamini, said she was proud of the milestones attained and the role of the programme in driving gender equity in the sector – one institution at a time.
Since 2021, FALF has supported 71 fellows at Wits through grants that enable black and coloured women to advance their research by removing the entrenched barriers that make it hard for this demographic group to secure research funding and establish themselves in the academy. Research production is a key requirement for academic progression, however, research grants are few and often very competitive making it harder for emerging researchers and scientists to crack the mold. Furthermore, the disbursement of grants often mimics the racial and patriarchal systems in society. In South Africa, black and coloured women, are new entrants in academia due to past regimes which relegated Africans to menial jobs. Although efforts have been afoot since the dawn of democracy to transform the gender and racial profile of academia, many initiatives have missed the mark due to a blanket approach.
"We are happy that Wits allowed us to use an intersectional lens when addressing transformation because the business as usual approach to transformation assumes that we (previously disadvantaged groups) are a homogeneous group within genders and racial group. The FALF approach enables us to solve for the ones left behind furthest first," said Dlamini.
In his address Prof. Garth Stevens, DVC: People Development and Culture highlighted that women take five years longer than men to reach the zenith of their careers and to gain respect in their research discipline. Therefore, academia and society by extension, still have a lot to do when it comes to addressing the struggles facing female leaders.
The delayed progression of female academics is a key area for FALF which not only provides grants but also provides mentorship. Each of the fellows are paired with successful academic mentors who are able to guide them through building an academic career.
Knowledge production boosts economic development
Professor Stella Nkomo, an NRF A-rated scholar and FALF board member, stressed the importance of focusing on knowledge production in building powerful nations. Nkomo's timely remarks came against the backdrop of the BRICS summit which concluded a day before the FALF symposium.
"Lots of times countries want to be great nations and they focus on economic development and being the top economic power in the world. But, if you go back in history, every civilization has also been great in knowledge production."
Nkomo listed the empires of Rome, Greece and Mali as powerful nations who gained influence because of their scholarship in physics, mathematics, astronomy and the humanities.
She expressed confidence that FALF fellows would contribute to the knowledge legacy of South Africa.
The keynote address at the symposium was delivered by Professor Laetitia Rispel, who shared her humble journey which began from an impoverished background in Kuuruman to becoming a Professor in Public Health and holder of the South African Research Chair Initiative focusing on Health Workforce for Equity and Quality.
FALF fellows presented on a range of topics including the special research projects at FALF focusing on gender-based violence and femicide (GBVF). The Nonjulabuchopho Project examines the link between GBVF and alcohol abuse across higher education institutions, and the Sabela GBVF Intervention Research project takes a community approach to understand GBV in South Africa.
The symposium concluded with an awards function also attended by sponsors involved in the knowledge building project through financial support. CEO of Bidvest Mpumi Madisa and a champion of diversity spoke about the significance of gender transformation. Madisa who holds a masters degree from Wits shared how she only had one female teach her in her seven years of study. She further urged FALF fellows to use their positions and words wisely because the words of teachers have a profound impact on students. As a woman of influence, she is proponent of diversity and the company goes as far as sponsoring students outside of the traditional skills associated with their business. Diversity is good for innovation she said.