Donated books reflect on African achievers and gender issues
- Wits University
Wits Libraries receive a total of 30 books focusing on African leadership, excellence, and gender-based violence to encourage deep conversations.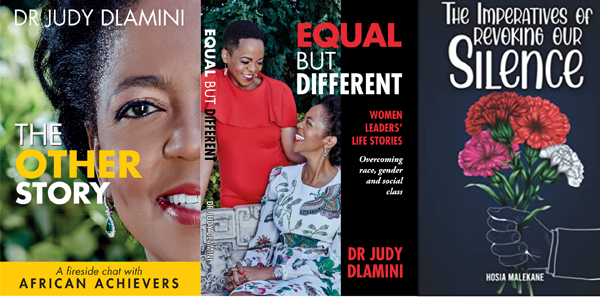 Dr Judy Dlamini, Wits Chancellor, author, entrepreneur, medical doctor, and respected business leader has donated 10 copies of each of her books – Equal but Different and The Other Story.
Dlamini donated these in the spirit of Africa Day and said she writes to "tell stories about African Achievers to inspire our future leaders."
Equal but Different is a conversion into a book of her doctoral thesis that used life stories and grounded theory to investigate the intersection of gender, race and social class and its impact on women leaders' careers. It became a bestseller.
"It serves as a mentorship 'handbook' with lessons from women leaders' life journeys in leadership."
The second title includes African male achievers from the continent. "I hope the young leaders will be inspired to reach their full potential from reading about African achievers," says Dlamini.
The Imperatives of Revoking our Silence by Hosia Malekane touches on the thorny issue of gender-based violence.
Malekane says, "I authored this book addressing the exacerbating gender-based violence pervading our campuses."
Malekane donated copies "in acknowledgment that most of our students can hardly afford academic books" due to socioeconomic dynamics. However, with support from private sector sponsors, 10 copies of the book will now be available in each of the public institutions in South Africa, including at the Wits Libraries.