The hurdles facing migrant protection in South Africa
- Wits University
Forms of protection for forced migrants in South Africa continue to shrink, leaving civil society and unreliable stakeholders as guardians.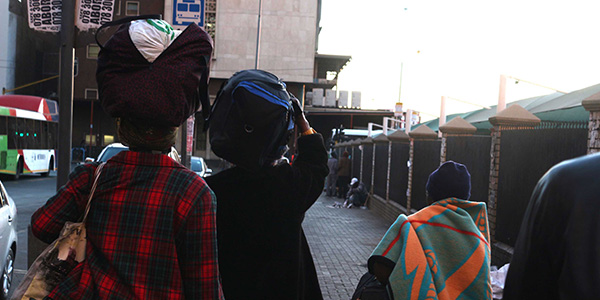 Image: Madoda Mkobeni
The principle of migrant protection has been one of the most significant challenges in South Africa's system in recent years as it has had to respond to both forced and labour migration. So how is South Africa, a top immigration destination on the continent, fairly dealing with migrants, refugees and those claiming asylum?
The answer may not seem fair at all as the guidelines in place for the protection and operation of asylum seekers and refugees, albeit lagging in implementation, may not carry the same weight for migrants. These were some of the findings from a study by three researchers Professor Jo Vearey, Dr Nicholas Maple and Dr Kudakwashe Vanyoro based at the African Centre for Migration & Society (ACMS) at Wits University in connection with the PROTECT project, an EU-funded research project studying the impacts of the UN's Global Compacts on Refugees and Migration.
The importance of the two Global Compacts and their treatment and protection of vulnerability were placed under the microscope in relation to African migrants, specifically those coming in from the Zimbabwe-South Africa border. The first PROTECT project examines the two compacts and their relationship with a humanitarian border space that has been significantly shaped and transformed by migration and humanitarian interventions in the past two decades.
It was in 2015 that the international community came together in the wake of Europe's migration crisis to respond to the large-scale mixed movements of people, resulting in the adoption of the Global Compact on Refugees (GCR) and the Global Compact for Safe, Orderly, and Regular Migration (GCM).
The GCR provides a blueprint for governments, international organizations, and other stakeholders to ensure that host communities get the support they need and that refugees can lead productive lives. The GCM on the other hand is an intergovernmental negotiated agreement, prepared under the auspices of the United Nations, to cover all dimensions of international migration in a holistic and comprehensive manner.
The compatibility of the compacts
This study suggests that the Compacts language insists on the difference between migrants and refugees. In turn, you have state and non-state organisations that only deal with refugees and others with migrants. While this distinction is important in protecting each group, there is no provision made for those left behind because their status does not fit neatly within the two.
Indeed, the social vulnerability of labour migrants may not be similar for asylum seekers and refugees says Kudakwashe Vanyoro, a Postdoctoral Research Fellow at the ACMS and contributor to the study. However, vulnerability also has a social life, making it counterproductive to distinguish the challenges these two groups face.
"This concept [social life of vulnerability] basically describes the ways in which vulnerability evolves in social contexts such that one aspect such as a lack of documentation for a migrant or an asylum seekers can lead to other sorts of vulnerability related to the welfare of the entire community," says Vanyoro.
An example given in the paper is that of undocumented migrants mothers who are in parental relationships with South African men. Their children do not have birth certificates, so they struggle to access schools. Some end up dropping out and others fall victim to underage pregnancies, drug use and crime.
Vanyoro explains that the compacts provide NGOs responding to migration with the language to frame their work, but because they also insist on legal status, they seem to be working against migrants and some asylum seekers in the border area who tend to be undocumented. He suggests that these compacts are also too rigid to respond to migrants who are not legible for asylum yet fleeing human rights violations who cannot afford to move legally as labour migrants.
Failing to deliver
Similarly, the institutional architecture of government stakeholders such as the Department of Home Affairs set up to deal with the migrant crisis is plagued by allegations of corruption, serious legal and procedural flaws in the application of the law, and national policies that continually breach international law.
This second PROTECT project study suggests that these stakeholders' influence over all aspects of refugee affairs results in a national system that creates barriers that prevent asylum-seekers and refugees from gaining access to the interior and leaves most forced migrants in the country struggling to access basic rights.
"The main problem is that it is not easy for people who come in as low-skilled workers due to red tapes like hefty application fees and requirements. There is no provisioning in the existing work permits for this either. Meanwhile, asylum seekers face challenges accessing refugee reception offices, corruption is reportedly widespread with bribery required at times, and home affairs have a huge backlog in processing refugee status," says Vanyoro.
Proposed solutions
Researchers from the ACMS have proposed various measures for potential adoption to help solve the separation of issues experienced by migrants to that of asylum seekers and refugees, as well as assist stakeholders with the implementation of fair legal protection for all those seeking refuge in South Africa:
UNHCR to work more closely with the Department of Home Affairs in relation to the Back-Log Project and use this important development to push for increased availability of protection measures (including legal and social forms of protection) for refugees and other forced migrants. Much of this can be achieved by more inclusiveness in national systems, such as social insurance and social assistance programmes
Greater engagement by all key stakeholders with a broader range of government departments that have a mandate (based on the National Constitution) to work with forced migrants
The state to commit to greater engagement with street-level organisations, based on a 'whole of society approach', to learn and support street-level approaches to protection
Government departments at the national and local levels to commit to removing barriers at the point of access for refugees and migrants
State and non-state migration responders to develop holistic interventions that address vulnerability as a social process in communities as opposed to exclusive groups of people i.e. migrants/refugees/locals
About the ACMS
The African Centre for Migration & Society (ACMS) is Africa's leading scholarly institution for research and teaching on human mobility. Established in 1993, ACMS is an independent, interdisciplinary and internationally engaged institution focusing on the relationships among human movement politics, poverty, and social transformation. While oriented towards southern Africa, the Centre conducts collaborative scholarly and policy-oriented work across sub-Saharan Africa and has partnerships in Asia, Europe and the Americas. It offers Africa's only post-graduate degrees in migration and displacement studies and provides training to students and professionals on a number of topics including the sociology of migration, mobility and health, human rights, and research methods.