Witsies dominate the 51st budget speech competition
- Wits University
Wits scoops four out of the top six positions and prizes available at the national budget speech competition.
Witsies Charvana Skye Naidoo, Leela-Lind Devar and Goitsione Magonare were placed first, second and third respectively, in the undergraduate category the Nedbank and Old Mutual Budget Speech Competition. Songezo Mpini, a Master of Commerce student obtained the top spot in the postgraduate category. The group collectively walked away with R270 000 in cash prizes.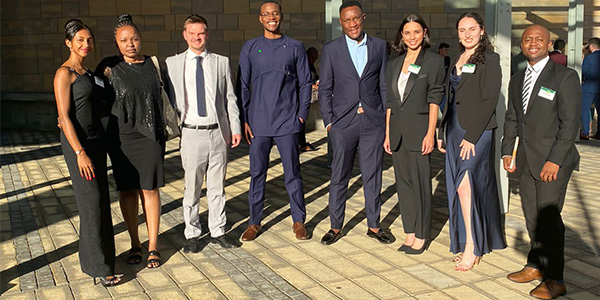 The competition is sponsored by the two financial giants with the aim of encouraging and rewarding bright young economic minds in the higher education sector. Competition winners were announced last night at a gala dinner just hours after the finance minister Enoch Godongwana delivered the national budget. The event was attended by the Minister, captains of industry and decision makers from various sectors of society.
This is a huge accolade for the School of Economics and Finance (SEF) at Wits University which had a total of eight finalists from 20 who were shortlisted from close to a hundred entries country wide. The prestigious competition, now in its 51st year, poses challenging economic scenarios to undergraduate and postgraduate economics students from tertiary institutions across the country that they need to research, explore, and respond to in an essay.
Students are marked by a panel made up of representatives from Nedbank, Old Mutual, National Treasury, private sector, academia as well as external consultants. The panel selects the top 20 students in each category who proceed to the final round of the competition.
The final round is held annually in Cape Town ahead of the national budget speech. In this round student are evaluated against a criteria judging their intellectual sparkle, ability to formulate and express rational arguments, and understanding and knowledge of topical global economic issues. Thereafter, the winners are announced at a gala dinner on budget speech night.
"A huge congratulation to the winners and all our students who participated in this year's competition," says Professor Uma Kollamparambil, SEF's Head of School.
"As a School, we pride ourselves in our teaching and learning that not only shapes our students' technical economics skills but also nurtures analytical graduates who proceed to play meaningful roles in shaping South Africa's economy and lead the world from the Global South."
Nedbank Chief Executive Mike Brown says the competition showcases the brilliance of economics and finance students at our South African universities. The competition sets the stage for many young people as many winners carve have prominent and successful careers in South Africa and internationally.
'For South Africa to fulfil its promise and potential, it needs visionary leaders and influencers who have both a deep understanding of the economic issues we face and how to resolve them as well as a motivation towards building a stable and socially just society," says Brown.
Kollamparambil whose School also dominated the 2021 leg says: "These stellar results for two consecutive years are testimony to Wits University's academic excellence, high calibre of our student population as well as the commitment and fortitude of our academic staff. A special acknowledgement to Dr Lyndal Keeton, Nimisha Naik and all the academic staff in SEF who helped to prepare the students for the competition.,"
Entries to the 52nd budget speech competition are now open and close on 30 June 2023.