First Years revel in the Wits Spirit
- Wits University
Excitement fills the air as Wits FC wins against Orlando Pirates at the 2023 Spirit Game.
Wits first year students enjoyed a thrilling football match when the two teams clashed at the annual Spirit Game. A Wits tradition, the Spirit Game takes place during orientation week and brings live entertainment, and exciting giveaways.
The atmosphere was electric with both teams bringing their A-game. The first half ended with a one all draw. Wits University came back with a vengeance capitalising with two extra goals in the second half which saw them triumph 3-1 over Orlando Pirates at the final whistle. This redeemed the Witsies as the Buccaneers beat Wits FC 1-0 at the 2022 Spirit Game.
The Spirit Game is hosted by Wits Sport in partnership with the Wits Alumni Relations Office. Wits Sports promotes fitness on campus by providing competitive and recreational sports on campus. Wits Sports manages 28 active sports clubs, world-class sports facilities as well as a fitness and wellness centre.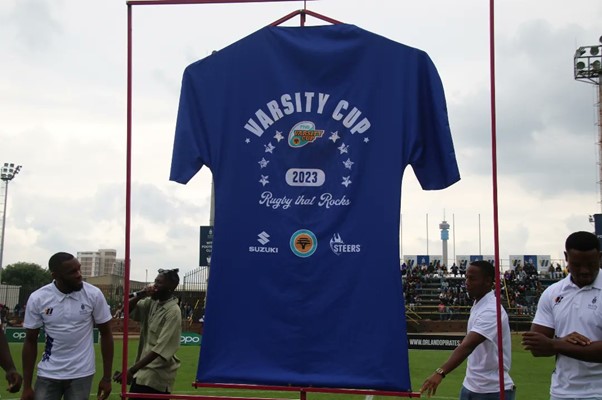 As part of the festivities on the day, Wits Rugby revealed their 2023 Varsity Cup t-shirt which they will don in their opening match on 20 February against FNB CUT-Ixias in Bloemfontein.
The spectators also scored with amazing prizes from various sponsors netting vouchers from Adidas, laptops and devices from MTN, OPPO gadgets, meal vouchers from Predros in Braamfontein and thirst quenching hampers from Aquelle.
It has been an interesting two week for the class of 2023 who received a surprise visit from former Miss Universe Zozibini Tunzi. The spectacular Night Run and the entrepreneurs market are just a few of the activities hosted during the Gateway to Success programme. Classes on campus start on 21 February.