Wits Sports honours top achievers
- Wits Communications
Student-athletes commended for balancing sports and academics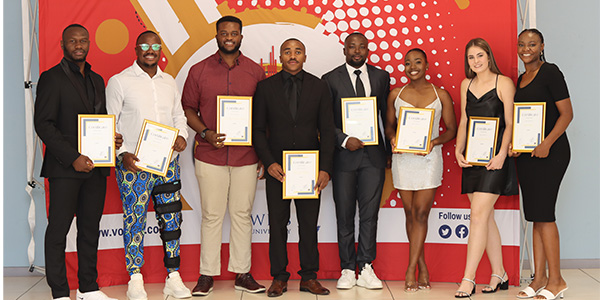 Wits Sports hosted its annual Sports Award to honour the exceptional talent, commitment and discipline of student-athletes.
Over 80 student-athletes were recognised across nine categories at the awards. This includes Wits University's sport colours – half-blue, full-blue as well as full-blue Cum Laude colours as well as the Honorary Commendation Award, Rising Star Award, Student Sport Administrator of the Year, Breaking Boundaries Award, Honorary Award, Club of the Year, Junior Sportsperson of the Year and the highly regarded Sportsman and Sportswomen of the Year Award.
Forty-four athletes received half-blue colours. These are awarded to students who were in a senior provincial team for two consecutive years, a junior B team for three consecutive years, an athlete that was selected for a University Sports South Africa (USSA ) TA team among other achievements.
Twelve athletes were awarded the University's full-blue colours granted to athletes who have junior national colours, an athlete who won a senior national title, represented a national team or broke a national record. Morgan de Jager (Hockey), Shanna Pereira (Hockey), Harry Oliver Saner (Chess) and Tumelo Ranoto (Chess) received full-blue Cum Laude colours.
The ceremony also recognised individuals and clubs that contributed to the operations of the various clubs on campus that make Wits Sports the outstanding organisation that it is. Wits Sports hosts 28 active sports clubs, world-class sports facilities as well as a fitness and wellness centre. The Wits Basketball Club won Club of the Year and Anushka Monema received the Honorary Award for her commitment and long service to the Tang Soo Do club.
The highlight of the evening was the Sportsman and Sportswoman of the Year Award. The award recognises student-athlete who achieved at Senior National level, and a student-athlete who was awarded Senior National colours and/or represented a national team at an international competition. Triathlon Dylan Kruger walked away with the Sportsman of the Year Award while Panashe Chiranga, South African under-21 team and Wits' netball club player, was crowned Sportswoman of the Year.
Guest speaker at the event, Lwandile Simelane, Vice-President of the South African Sports Confederation and Olympic Committee applauded the tenacity displayed by the athletes.
"We need to commend Wits' student-athletes for the formidable force that they are. Student-athletes balance an academic career at a leading African institution while navigating a daunting training and competition schedule," she said.
On balancing academics and sport Sportsman of the year and fourth-year medicine student Dylan Kruger says: "If you want to do something, you will make time for it. The two complement each other. The one benefits from the other. Life is all about finding the right balance".