Wits Students take first and Second place at the National Conference
- Wits University
Witsies dominate at the Centre for High Performance Computing (CHPC) National Conference Student Cluster Competition.
Every year, the Centre for High Performance Computing (CHPC) hosts a week-long national conference that brings together its users to communicate their work, showcase world-renowned experts, and offer a rich program for students in the fields of high-performance computing, big data, and high-speed networking. This year, Wits University was invited to participate in the student cluster competition where teams were required to set up and run benchmarks on a small cluster using servers they designed themselves.
High performance computing (HPC) is the use of supercomputers and other advanced technology to perform complex calculations and simulations at high speeds. This allows for the solution of complex problems that would be impractical to solve using traditional computing methods.
Benchmarking is the process of testing a computer system's performance against a standardized metric. By running these tests, organizations can compare the performance of different systems and identify which ones are the most powerful and efficient.
On Sunday, 27 November, the Wits teams arrived at the CSIR conference centre in Pretoria for a brief orientation, only to be handed their hardware and proceeded to get to work. Always be prepared is a lesson they won't forget.
The competition began immediately, and the Wits teams - Team 1 and Team A - were up against some formidable opponents. After a gruelling week of excessive caffeine, sleepless nights and frustrating error messages, both teams rose to the occasion with Team A taking first place and Team 1 coming in second. Congratulations to the Wits teams: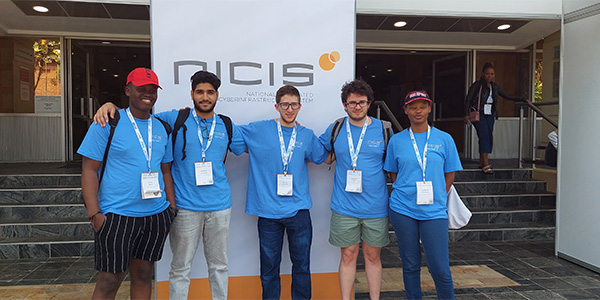 Team A:
Jonathan Faller second year Biomedical Engineering
Sayfullah Jumoorty second year Computer Science
Lenox Baloyi second Year Computer Science and Corporate Finance & Investments
Bongekile Mqhakama third Year Electrical Engineering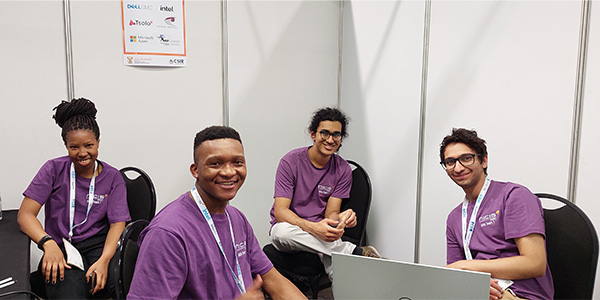 Team 1:
Darshan Singh second year Computer Science
Sahil Dinanath second year Computer Science
Naomi Muzamani second year Computer Science
Mosa Mabula second year Electrical Engineering.
Naomi Muzamani, one of the students, was awarded the most deserving female student prize.
"These wins, together with the Interests Groups in Mathematical Sciences, reflect the high standard of teaching and learning at Wits, giving our students the competitive edge that enables them to be serious contenders, both Nationally and Internationally," says Brian Maistry- Scientific Research Systems Manager in Mathematical Sciences at Wits.
The Wits teams were grateful to the CHPC and all sponsors for the opportunity to participate in the competition and for providing such a memorable experience. This formidable win at the nationals means the students get an opportunity to travel to the Texas Advanced Computer Centre in the United States for training. They will also make their way to Germany to compete in the International Student Cluster Competition.
Furthermore, the CHPC team, comprised of students, Lenox Baloyi, Jonathan Faller, Sayfullah Jumoorty, Bongekile Mqhakama, Naomi Muzamani, and Sahil Dinanath, as well as Itumeleng Mokonyane of TUT and Kamogelo Sithole of UL, will represent South Africa on a global stage in the ISC23 competition against other countries like China, Singapore, and the United Kingdom to name a few.
The ISC23 competition will allow students to network with other students and professionals in their fields. This will be a valuable experience as they advance in their careers and develop their skills.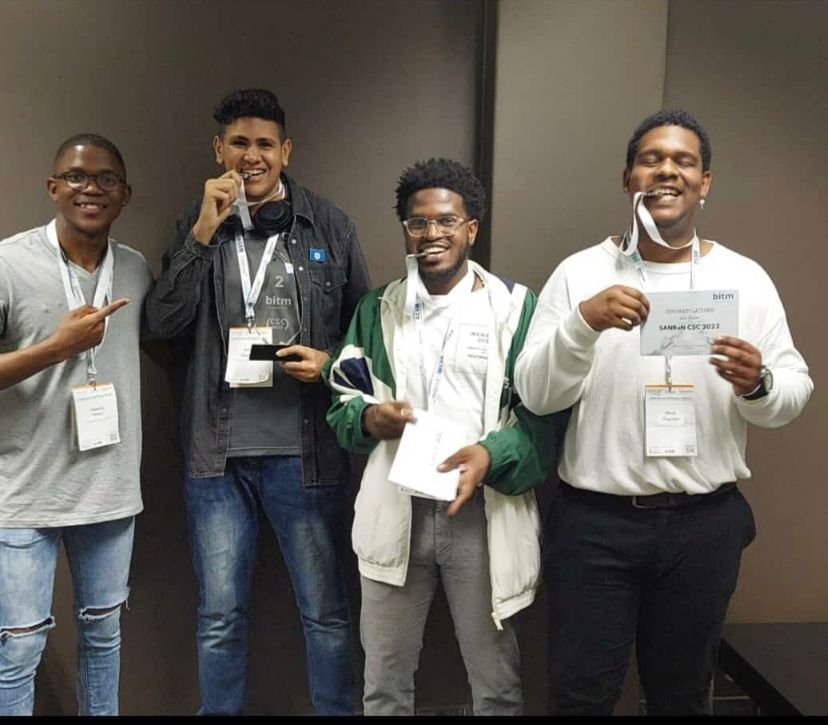 DaemonSlayers, a team that represented the University of the Witwatersrand at 2022 Cyber Security Challenge hosted by SANReN (South African National Research Network) was placed 2nd nationally. The team members were from the school of Computer Science and Applied Mathematics(CSAM), namely Rohan Dayaram(team captain), Wade Paulsen, Sibusiso Mfana and Louis Mosotho. The competition included many ethical hacking techniques including Capture the flag, Hack and Defend and Social platforms hacking. This was a newly formed team that impressed many previous teams including the organizers, SANReN. Furthermore, Rohan Dayaram has been chosen to be part of the African Region of the International Cybersecurity Competition (AFRICC) team, to represent Africa at the International Cybersecurity Challenge(ICC) which will take place from 31 July 2023 to 4 August 2023 in San Diego, California. We wish Rohan and the African team much success. The Cyber Security Interest group is hosted in Mathematical Sciences.