The three life values that stuck with this Wits alumna
- Wits University
Enthusiasm, integrity and compassion. These are the three life values renowned physiotherapist Professor Stewart shared as she accepted a Gold Medal.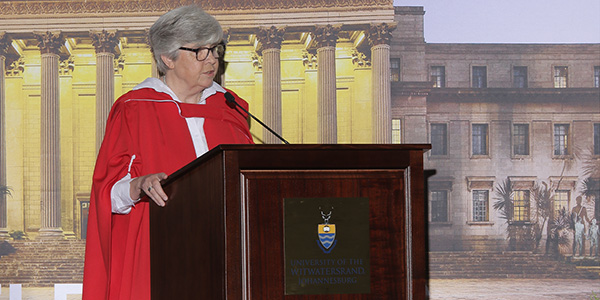 A Wits alumna and renowned physiotherapist, Professor Aimee Stewart received a Gold Medal from the University, which is awarded to individuals who have made a noteworthy contribution to the University or rendered exceptional service to the community.
Stewart played a pivotal role in curriculum design and the accreditation of physiotherapy in South Africa and beyond. She took the stage right before young healthcare professionals got capped and shared an important memory that stuck with her throughout her illustrious career.
She reflected on a time during her second year when her biochemistry lecturer Professor Paul Levy took her by surprise with a few words of wisdom as opposed to his routine style of teaching.
"He first spoke about enthusiasm for what you do. You are all going to need enthusiasm as you embark on your working life in January. Enthusiasm means taking on whatever is thrown at you clinically; putting your patients first; being creative in managing the overwhelming numbers of patients you need to see; going beyond the usual and ensuring that you always consider your patients within their own family and social circles, as you help them to manage their often-trying conditions.," said Stewart.
She then spoke about integrity and having strong morals in the line of healthcare. Stewart discussed the importance of never cheating on a patient's time and trust.
"Integrity means working hard every day and ensuring that everyone needing our care gets it. Integrity means that if you go into private practice, the guiding principle should be that the health care you provide is what is required and not what will maximise revenue."
Lastly, she spoke about being compassionate to those who place their faith in healthcare professionals who guide them on their journey.
"We desperately need our future leaders, such as all of you, to be compassionate. We are reeling under the hateful rhetoric, both private and public, that is spewed out on social media and in our news streams. We can become a more compassionate and caring society, but we are dependent on a groundswell of pushback against hatred, and you as members of the healthcare team need to be part of that."
Stewart encouraged all those seated in their gowns eager to have their day on stage, to let the words of the Hippocratic Oath sink in as they celebrate their achievement.
"In quiet moments I urge you to go over the Oath and consider what you have said you would be, and what you would do."
A true Witsie
Stewart's ongoing involvement in national and international leadership roles continues to contribute to the discipline's academic integrity and status. Some of her notable contributions include receiving a six-year National Research Foundation niche area grant to explore the management of chronic disease and disability, including HIV/Aids. This was the first time that someone from the therapeutic sciences had been awarded the grant.
Furthering partnerships on the continent, Stewart acted as a consultant from 2004 to 2010 to the Kigali Health Institute, now the University of Rwanda, to assist with the development of their undergraduate physiotherapy curriculum, drawing on years of expertise garnered from her involvement at Wits as a lecturer and clinical supervisor. She has served as the editor-in-chief of the South African Journal of Physiotherapy and was nominated to serve the World Confederation of Physical Therapy by chairing its International Scientific Committee for the 2015 World Congress.
She continues to advance the profession as a member of the World Confederation's Accreditation Committee, which accredits physiotherapy programmes worldwide, particularly newly developed ones and those in under-resourced countries. In this capacity, she has undertaken accreditation reviews at universities in Beirut, Lebanon and in Pori, Finland.
Her contribution has earned her several awards including the South African Department of Science and Technology's Distinguished Women in Science award in the Humanities and Social Sciences category. Stewart earned her first degree from Wits in 1968, a PhD in 2002 and retired in 2012, but she continues to impact on the world.