Memorialising a revolutionary leader
- Wits University
A new partnership is forged as a portrait of Professor Adam Habib is unveiled.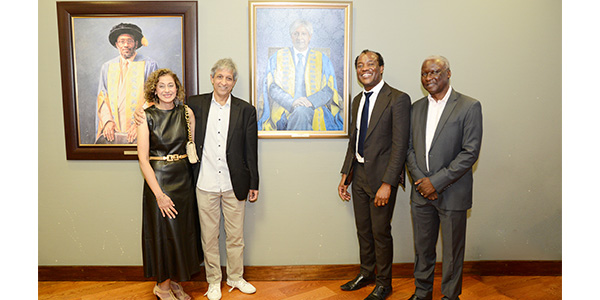 "You were one of the most vociferous leaders of Wits University and our higher education sector. You speak truth to power. You are a courageous leader who is not afraid to hold those in power to account, when others are afraid to do so. Tonight's historic occasion recognises your strong affiliation with Wits, your leadership over time, your life-long association with this great university, and the legacy that you have left in your wake."
These were the words of Mr Isaac Shongwe, the Chairperson of the Wits Council, at an event held to honour the legacy of Professor Adam Habib. A portrait of Habib was unveiled alongside his predecessor, Professor Loyiso Nongxa (2002 – 2012), who was also in attendance.
"You are admired for your steadfast values and principles, your commitment to social justice and democracy, and your insistence on how Wits can use its intellectual prowess and research to positively impact on society, and serve as the foundation of our common humanity," added Shongwe.
It is a tradition to have a portrait commissioned for every vice-chancellor and chairperson of council who leads Wits University. The most recent portraits hang in grandeur in the foyer of the Senate Room foyer, whilst others are housed in Wits' libraries.
Professor Zeblon Vilakazi, the current Wits Vice-Chancellor and Principal described Habib as "a distinguished vice-chancellor, a trailblazer, a political analyst, a courageous leader, and an intellectual activist". He thanked both Habib and Nongxa for the legacy that they left at Wits, and for the path that they set to take the university to new heights. "Institutions like Wits have an important role to play in our democracy. In this regard, we will punish mediocrity and kneel at the altar of excellence," he added.
Habib thanked his family (his wife Fatima, his sons Irfaan and Zidane, and his extended family), and the broader Wits community, including members of the Executive, Senate and Council, students and staff, for supporting him, and enabling him to fulfil his mandate during the eight years that he spent at Wits.
"Do not underestimate the role that Wits plays in Africa – people look to this great institution. Despite all the troubles through which we live, Wits is an important public institution that is working and excelling during this historical moment, not by South African standards, but by global standards. Wits' academic influence, its research output, its throughput, its new partnerships, and its impact on society, is being noticed. The Wits Centenary has been incredible and has made an impact. Many people, across the world have said to me – 'Jeez, Wits is doing really well. Congratulations!"
Habib announced the establishment of a new partnership between Wits and the School of Oriental and African Studies, including a new PhD qualification in heterodox economics. "This is unique because it is a single degree, with one fee, that will be co-curriculated, co-supervised, and will be awarded jointly by both institutions," he said. "This could become the exemplar for something fantastic in the future, especially given the need for us to reimagine higher education as we continue to confront transnational challenges."
Members of the Senior Executive Team, Council, Senate, and professional and administrative staff were in attendance, as were special guests, including the Vice-Chancellor and Principal of Sol Plaatje University, Professor Andrew Crouch, who previously served as the Deputy Vice-Chancellor: Academic under Habib's leadership.
During Habib's tenure, research output at Wits doubled, throughput rates rose, Wits' finances were stabilised and strong, independent governance structures were strengthened. He served as the Vice-Chancellor and Principal from 2012 to 2020.