Carnegie programme going strong
- Wits University
Carnegie funded programmes makes critical contributions to the knowledge project and talent-pipeline.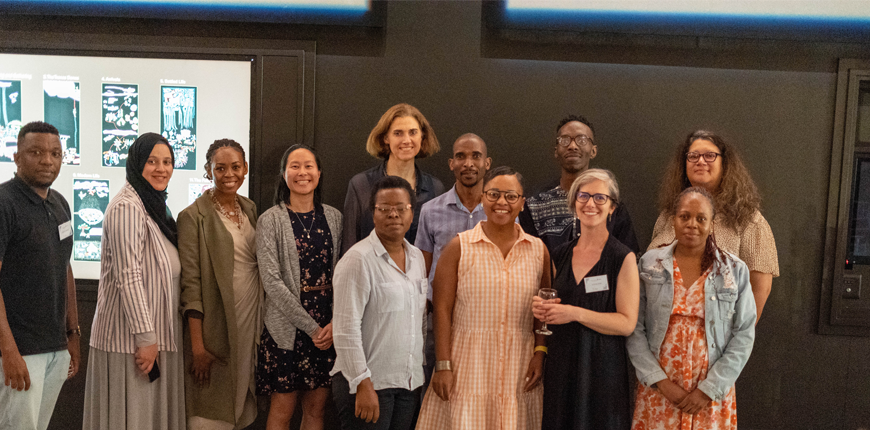 The Transformation and Employment Equity Office (TEEO) recently hosted a year-end function where some of the fellows under the Carnegie Diversifying the Academy (CDTA) programme at Wits showcased their research and milestones. The event was attended by Claudia Frittelli, Carnegie's Programme Director of Higher Education and Research in Africa, Professor Garth Stevens, the incoming Deputy Vice-Chancellor for People Development and Culture, and representatives from TEEO.
The CDTA is one of the strategic programmes funded by the Carnegie Corporation of New York at the University, and aims to support national goals of growing the pool of African academics and researchers. This is achieved through providing funding to develop and improve the retention of African staff by addressing factors that hinder progress and career longevity in the sector.
In his opening remarks Stevens commended the fellows for advancing national imperatives that will result in a more inclusive knowledge economy and transformed society.
Five research papers were presented with the following titles: (i) Evaluation of the implementation of the framework and strategy for disability and rehabilitation in South Africa by Ms Naseema Ahmad Ramadan Hussein El Kout, (ii) Central bank policy rate announcements and high-frequency intra-day benchmark returns reactions dynamics: Evidence from South Africa by Dr Cyril May, (iii) The social context of childhood malnutrition in South Africa by Masthidiso Sello , (v) Proton beam irradiation of low voltage power supply components for the ATLAS Tile Calorimeter Phase-II Upgrade by Dr Edward Nkadimeng, and (v) The effects of open-plan offices on social, mental and physical well-being by Dr Thabelo Ramantswana.
One of the aims of the project is to improve research outputs from the continent and produce more PhD graduates who complete within the standard four years. Frittelli shared trends on this topic drawing from a preliminary report by the African Research Universities Alliance (ARUA), of which Wits is a founding member.
Frittelli reported a growth rate of about 9% annually in research output across the alliance partners. A similar trend could be observed in the publications per staff. Publications by women academics have also improved, she said.
Of note are the improvements in the completion of doctoral studies on the continent. For example, in 2015 Makerere University had a 21% but in 2021 had 47% completion within four years; in the same period Wits moved from 31.6% to 42%.
This upward trajectory across research output and PhD studies is good news in knowledge production machinery.
"You are part of the success and important in moving us forward," Frittelli told the early-career academics.
"We mostly hear negative rhetoric about low African research productivity, poor infrastructure, lack of research funding and it is important to know that trends are going in the right direction."
Professor Antonia Wadley, Programme Director of the CDTA highlighted more achievements by the fellows.
Three fellows receiving enabling grants completed their PhDs in 2022 and graduated in December. These fellows are lecturers and part-time PhD students who used the enabling grant either to support their research costs or to pay for teaching buy-out so they could focus on their PhD studies.
Furthermore, 18 fellows who are at the stage of publication-writing have had 21 papers accepted in academic journals. Four book chapters and 1 whole book have been published and 13 more papers have been submitted to journals and under review.
The fellow's contribution to success of postgraduate and senior students is also notable. The recipients have graduated 22 Masters students and an additional 15 PhDs and while an additional 79 Masters students are currently being supervised.