Witsie wows global science community
- Wits University
Tamlyn Naidu claims a win for South Africa in Berlin for her research on acid mine drainage.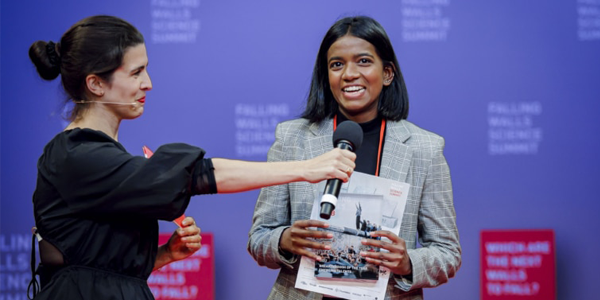 Naidu, a post-doctoral fellow in the Faculty of Science, won first prize in the 2022 World Finals of the Falling Walls Science Summit in Berlin for her ground-breaking research.
Her entry titled Breaking the Wall of Acid Mine Drainage tackles mining related water pollution and land loss. Her research successfully piloted the use of waste products from the refining and agricultural sectors to treat mining wastewater, resulting in a nutrient rich sludge which can be used for hydroponic farming.
The Berlin Science Summit is a leading international interdisciplinary forum that shines a spotlight on the world's most significant scientific breakthroughs and provokes dialogue between global science leaders from academia, business, politics, media, and civil society to debate the potential of breakthroughs to solve our greatest challenges and shape a sustainable future. Held annually on the anniversary of the fall of the Berlin Wall, the conference aims to identify the next walls to fall in science and society that will ultimately change our world.
A total of 80 winners, selected from 1850 entrants, representing 54 countries pitched their breakthrough solutions at an international science festival in Berlin on 07-09 November 2022.
Naidu who holds several qualifications in chemical engineering from Wits says she is delighted to have scored this position.
"Acid mine drainage (AMD) is a very serious issue worldwide and the quality of the other research was astounding. So many breakthrough ideas were presented from so many qualified people at reputable institutions. I feel very lucky to have been chosen out of all of them," she says.
Her PhD Supervisor Professor Craig Sheridan and Director of the Centre in Water Research (CIWaRD) and Development at Wits has congratulated Tamlyn adding that:
"This win is significant because it places Wits at the forefront, globally, of AMD remediation. For Wits 100, this has special resonance. We started our journey as a University as the school of mines. Since AMD is a mining legacy issue, there is a sense of full circle that we are now leading the remediation of the consequences of mining.
Tamlyn has worked in remediating AMD from when she was a chemical engineering undergraduate. She has also got industry experience in water treatment. As a post-doctoral researcher in CIWaRD, she continues to do brilliant work and it is a privilege to be associated with young scientists such as her."
Naidu is no stranger to local and international awards. She has had several local and international recognitions for her research and achievements, including winning First Prize in the Institute of Materials, Minerals and Mining Young Persons' World Lecture Competition in London in 2019.
Another South African Emma Horn, a PhD candidate from the University of Cape Town won second place in the Summit's Falling Walls Lab category for her 'green' bio-tile innovation.