ICYMI: Here's what went down at AIJC 2022
- Wits University
Africa's largest gathering of investigative journalists shows the varied ways this pursuit can be improved, made more impactful and innovative.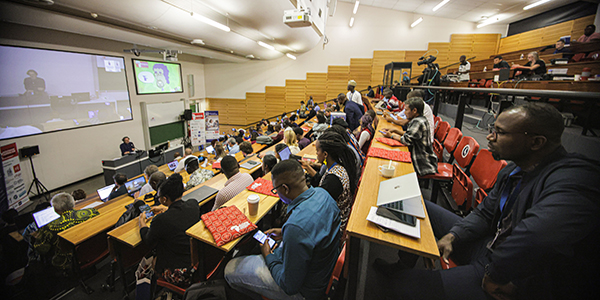 Some of the continent's best muckrakers dropped their pens and pads to network, learn and share important tips and tools at the 18th African Investigative Journalism Conference (AIJC 2022)hosted by Wits University and the Wits Centre for Journalism.
Africa's largest gathering of investigative journalists returned for the first in-person event since the global outbreak of Covid-19 in 2020. The conference was opened by seasoned journalist and adjunct Caxton Professor of Journalism at Wits, Anton Harber.
"It's our coming of age and what a time to be doing it. It's the first time in three years we've been able to get together in person again," said Harber as he addressed a lecture room full of journalists from across the continent.
The AIJC conference saw over 140 speakers address more than 350 guests, making this the most representative gathering in the last 18 years. Guests had an opportunity to explore topics such as the latest digital tools; investigating health, the environment, and insurgency; online safety; media sustainability; and business and finance reporting.
Plenary sessions
The first plenary session focused on investigative stories, presented by BBC Africa Eye film makers Peter Murimi and Njeri Mwangi. The pair discussed their investigation into child trafficking in Kenya.
Their piece, titled The Baby Stealers, investigates a syndicate of child traffickers who sell babies into a thriving black market in the country.
"The silent heroes are the people who make the stories come alive and have evidence that can bring about justice," said Mwangi.
Artificial Intelligence in journalism
The second plenary focused on the role of Artificial Intelligence (AI) in journalism. It was presented by Professor Charlie Beckett, the founding director of Polis, the think-tank for research and debate around international journalism and society, in the Department of Media and Communications at the London School of Economics.
"Technology is just one element in the way journalism is evolving," said Beckett, adding that it should not replace the human impact in editorial practices.
"We had that first wave which started over two decades ago when we took our journalism online," Beckett said. "Then there was a kind of second wave about 15 years ago when social media arrived, and we started using Facebook, Twitter, and WhatsApp. Then the third wave is this bundle of technologies that we use under this umbrella term of artificial intelligence."
Beckett explained that AI can be used in the production of news content and as a means to provide resourceful tools to augment the editorial process.
"Artificial Intelligence impacts all stages of journalism. Even if you don't use AI, you should understand it. Increasingly, everything we do will have some element of AI in it."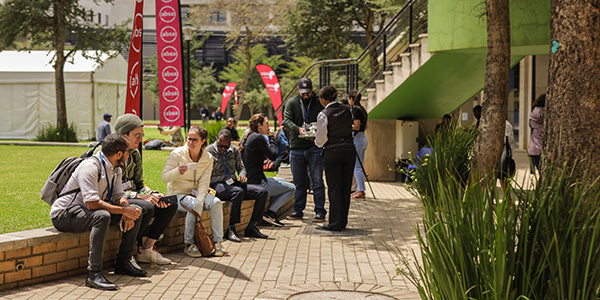 State Capture and the role of the media
The final plenary session held on the last day of the conference focused on South Africa's Zondo Commission and revelations from the inner workings of state capture.
The Zondo Commission revealed damning evidence from senior public officials who served in former President Jacob Zuma's administration.
The panel for the final plenary included AmaBhungane's Sam Sole, Daily Maverick's Pauli Van Wyk and Ferial Haffajee, as well as Open Secret's Michael Marchant.
"One of the frustrations leading up to the commission was that the media did their job but the message ended up being smothered," said Sole.
The panel discussed journalists' role as they reported on the daily testimonies coming out of State Capture.
"It was extraordinary but certainly not exceptional," said Haffajee, citing that the commission happened because of the absolute failure of the country's criminal justice system.
"There are seven to eight years of investigative work that shows that there was a systematic role of enablers in State Capture," said Marchant.
The panel all agreed that the work of journalists covering the three-year commission was exceptional as they broke down testimonies and followed up on explosive revelations of systemic corruption. However, the effort from those in power to smother investigative reports remains a concern.
The Carlos Cardoso Memorial Lecture
On the eve of the United Nations' International Day to End Impunity for Crimes Against Journalists, on 2 November, AIJC set the stage for this year's annual Carlos Cardoso Memorial Lecture.
The lecture was presented by Baba Hydara and Penny Sukhraj, who to this day are still fighting for justice following the murders of their journalist family members.
Hydara lost his father Deyda, co-founder of The Point newspaper in The Gambia, in 2004 by members of a hit squad belonging to former dictator Yahya Jammeh. Sukhraj's husband photojournalist Anton Hammerl, was shot by Colonel Gaddafi's forces 11 years ago while covering the war in Libya. To this day, Hammerl's family is still fighting for his remains to be returned home.
"In The Gambia today, assaults on journalists persist," Hydara said. "The Gambia Press Union has registered more than 13 assaults on journalists since the new government came into power in 2017. These assaults were mainly perpetrated by politicians and their supporters from both the ruling and opposition parties, and also from the security apparatus. Unfortunately, none of these perpetrators was brought to book."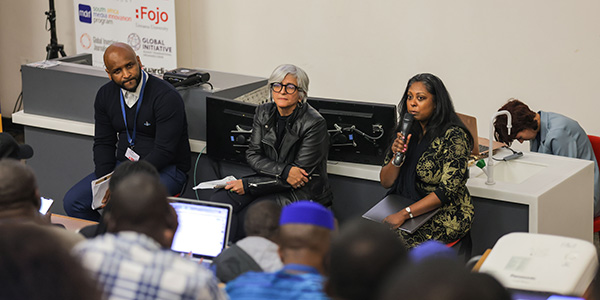 Sukhraj, online news editor for Dow Jones, said that the family awaited news of her husband's well-being for over 40 days while she was on maternity leave. "Blissful maternity leave turned into a living, hellish nightmare. The cries of our eight-week-old son at the time felt like the cries of Anton, somewhere out there … who knew where, or what had happened. Our eldest, at seven-years-old, helped me manage the baby. That's all we could do. We felt helpless to do anything else being so far off in London."
It was later revealed that Hammerl was shot by Gaddafi's forces.
"It's been 11 years. We've lobbied; we've written letters to UK parliamentarians and South African officials to ask for interventions; we've addressed UN committees tasked with investigating extrajudicial killings and forced disappearances; we've crowdfunded for our legal costs; we've stood in the English town where we live, metres from where we said goodbye to Anton, raising awareness about our case in our local community."
After the two powerful testimonies, moderator Angela Quintal, Africa coordinator for the Committee to Protect Journalists, read out a declaration calling for African governments to act to end impunity for crimes against journalists.
Impunity refers to exemption from punishment or freedom from the injurious consequences of an action.
"Authorities should make it a top priority to act and commit the political will necessary to combat impunity, not only for killings but other attacks as well. Too often, governments claim to stand for press freedom, yet their allocation of resources to investigations of attacks on the media remains lacking. Empty words will not fill the open wounds of a journalist beaten on the job or the empty seat at the kitchen table of a reporter gunned down in reprisal for their investigations. Attacks on the press are never justified, but when they happen, there must be justice."
Future focus for African muckrakers
After over 80 sessions presented by more than 140 speakers, conference convenor Anton Harber concluded the event with a few closing remarks on the future of African journalism.
Harber said he hopes that African journalists can make a memorable impression at the 2023 Global Investigative Journalism Conference.
"We must get the best of what we have here and make sure that the best of African investigative journalism shines bright at the global conference next year."
To find out more about sessions at the African Investigative Journalism Conference, check out the AIJC YouTube channel, @AIJC_Conference, @gijnAfrica, and GIJNAfrica's Facebook page.