Student programme prepares the next generation of change-makers
- Kristan Sharpley and Neo Taimo
The Emerging Leaders Programme empowers students with skills to be better leaders in an uncertain world.
The demand for innovative thinking and resourceful ideas has become more pertinent – whether to achieve more with less, break away from archaic solutions, or disrupt existing ecosystems. This has brought innovation to the forefront as a core 21st century competency. As society finds itself at the premise of the Fourth Industrial Revolution, it is more evident than ever that knowledge is no longer the dominant component needed for success. Rather, the next generation of leaders needs to be exposed to holistic development, and be equipped with the skillset to network, connect, form valuable relationships, and shape their problem-solving and adaptability skills, to create solutions and drive innovation forward.
The mission of the Development and Leadership Unit (DLU) in the Division of Student Affairs at Wits, is to produce world leaders who seek to create positive change courageously, in all spheres of life; leaders who contribute to the development of the Global South. This pursuit for a better society, all begins by creating stimulating and vibrant student experiences – on and off-campus – in the hope of an emergent paradigm shift to innovative leadership. We believe that the spaces we all operate in should be empowering and allow for constructive and critical inquiry, and promote responsible and responsive civic engagement. In the post-Covid-19 context, uncertainty is a given, and thus the need to be intentional in incubating leaders for the new societal context.
The DLU recently launched the Emerging Leaders Programme (ELP), a three-month experiential offering aimed at students across all five faculties, leading in different spaces in and outside the university in order to develop innovative leadership.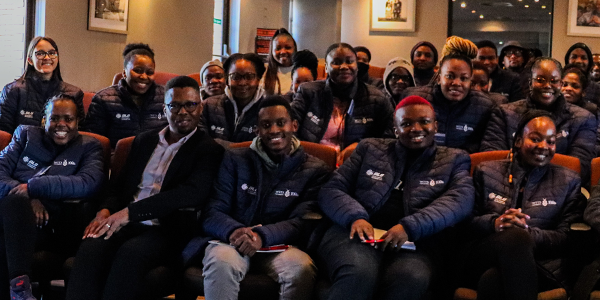 Emerging leader Qhayiya Mayinje from the Faculty of Humanities, wants to "understand the different aspects of leadership and how to lead effectively in every setting". Omphile Motsepe, based in the Faculty of Engineering and Built Environment, has been leading since joining Wits and "believes there is still more to learn".
The programme is aimed at students who have further aspirations to lead in their relevant communities and beyond. Mahlatse Kgatle from the Faculty of Health Sciences, sees the programme as a bridge for those who "have [a] passion for helping people within [their] community but require skills and knowledge" to help them to become more efficient and effective.
ELP has three overarching objectives: (i) to support and cultivate a sense of self as well as relatability to others amongst emerging student leaders through emotional intelligence, so that they can reflect and be reflexive leaders when they engage with others; (ii) to facilitate cross-cultural engagement to enhance their cultural intelligence so that students are agile and adaptive leaders within any given context and be effective team players; and (iii) to equip students to be strategic thinkers and innovators, so that they can be engaged civic agents of change who can challenge the status quo, and identify their unique leadership pathway.
The 2022 ELP cohort consists of 53 students from varying academic disciplines who have an additional task of working collaboratively on legacy projects linked to the African Union Agenda 2063. This is so they can grapple with every-day issues facing the African continent, and develop their agency as an active citizenry. The project requires thorough research and reflecting on the role they will play to steer the African continent forward.
In preparation for the task, the cohort has engaged with leaders of various sectors of society including a visit to the Nelson Mandela Foundation (NMF). Facilitated by CEO of NMF, Sello Hatang, the students reflected on how the past has shaped leadership principles in the present, and provided an opportunity for them to think about their role in shaping the future. Student leaders also engaged with Nokubonga Mbanga, award-wining global training and development leader on emotional intelligence; Lesley Baron Witt, a neuropathway coaching and meaning counsellor; Farai Mubaiwa, co-founder of Africa Matters; Happy Ngidi from ProudlySA on leading through agency, Thembelihle Dlamini, Head of Events and Functions at Wits on leading through action and strategic thinking; and Risuna Maluleke, Young African Entrepreneurs Institute CEO discussing leading through design thinking.
In 2023 the programme aims to establish an emerging leaders alumni network, to grow a pipeline of collaborative leadership across universities, and continue building the legacy of innovative leadership!