Countdown to Fak'ugesi Festival 2022
- Wits University
Happening from 13 - 21 October, this year's digital innovation festival returns to its home at Wits' Tshimologong Digital Innovation Precinct in Braamfontein.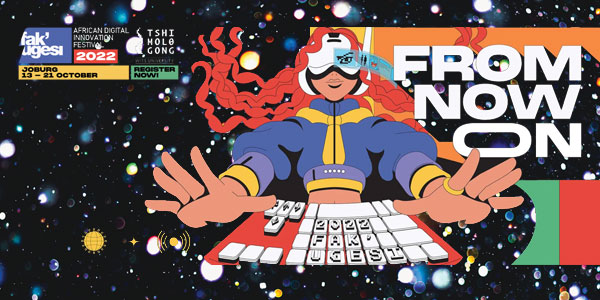 The 9th edition of the Fak'ugesi Festival is a celebration of young Pan-African talent in the digital sphere to its fullest.
The festival is rooted in showcasing and developing skills in technology, art and culture in Africa.
Founded in 2014 as a collaboration between Wits University's Tshimologong Digital Innovation Precinct and the Wits School of Arts' Digital Arts Department, the festival takes as its starting point the idea that for innovation with technology to succeed, a strong connection needs to be made between African cultural practices and creative encounters.
This year's theme, #FromNowOn, aims to showcase the creative climate of a new age after the positive (and negative effects) of the Covid-19 pandemic. it calls for a moment to pause and reflect where we are today and takes a look into Africa's digital future.
Splitting the theme into "FromNow" and "NowOn", the Festival will firstly look at how we arrived at our current context and how we got here, and then the latter will investigate how we use what we know of the now and respond energetically with creative solutions to our new perspectives on problems and opportunities in society.
Fak'ugesi continues to bring industry, researchers and African creators together to celebrate how technology enables creativity while zooming in on the ways this relationship shapes our lives.
Says Lesley Williams, CEO of Tshimologong: "The intersection between creativity and technology provides an innovative lens of understanding the world and crafting new solutions to problems. As the home of Fak'ugesi, we curate an innovation ecosystem where the convergence of hardware, software and content takes place. We proudly convene Africa's leading talent in creative innovation each year and look forward to seeing what their imaginations will construct this year #FromNowOn."
This year Fak'ugesi also has a new Creative Director at its helm, Eduardo Cachucho, a creative programmer, artist and ex-architect.
"Fak'ugesi has been the place to find rising African creatives working in digital from across the continent since 2014. In 2022 we welcome you back in person and online to meet trailblazing creatives, innovative organisations and brilliant makers," says Cachucho.
Programme overview
Fak'ugesi 2022 promises a jampacked programme, with some exciting new editions to its menu, including the much-anticipated inaugural Fak'ugesi 2022 Awards for Digital Creativity taking place on the last day of the Festival, 21 October 2022.
Also, don't miss these events:
Virtual and in-person Conference (14-15 October) for anyone - from beginners to experts - with a passion for digital innovation.
Expo (14-16 October) - exhibitions showcasing Africa's leading digital innovation.
A family-friendly interactive Maker Day (16 October) filled with collaborative creative activities for makers to meet artists and learn from them during walkabouts and screenings.
For programme details and to buy tickets, go to: https://fakugesi.co.za/programme-2022/
Download the first issue of the new Fak'uzine - Fak'ugesi's now digital magazine.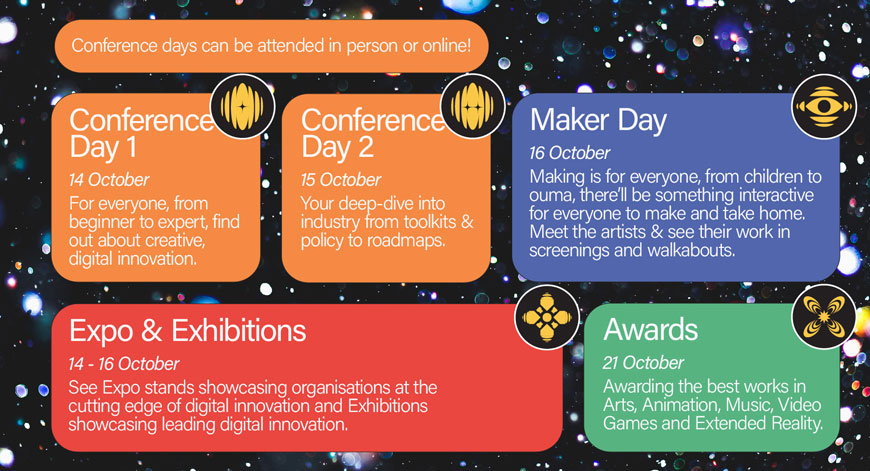 A BASA Award 2022 for Tshimologong and Fak'ugesi
At the recently held Business and Arts South Africa (BASA) Awards 2022, Tshimologong in collaboration with Wits Digital Arts won the coveted Chairperson's Awards for hosting Fak'ugesi since its inception in 2014.
The award was granted for the recognition of Tshimologong's commitment to the arts in South Africa in the form of advocacy and awareness initiatives and/or direct support of the arts in collaboration with Wits Digital Arts. Tshimologong defines "digital innovation" as the intersection between hardware, software, and content. As a university-based incubator, entrepreneurship is at the centre of its operating practice making it the perfect base for the Fak'ugesi Festival, its attendees, creatives and makers.