Healthy boost for Wits Food Bank
- Wits University
Wits staff step up on Mandela Day for food-insecure students.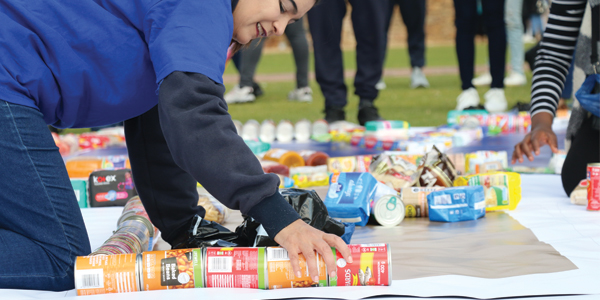 The rising cost of living has resulted in many counting their cents with no room to give, however, Wits staff have demonstrated care despite the gloomy economic environment.
Driven by a commitment to students and to the values of Nelson Mandela, Witsies helped to replenish the Wits Food Bank which supports thousands of students in need.
Refilling the Wits Food Bank on Mandela Day is part of the annual acts of care undertaken by the University community to promote student wellness and ensure food security for students.
Food insecurity is an unfortunate reality for some students, both local and international, due to financial backgrounds amongst other factors.
Wits Vice-Chancellor Professor Zeblon Vilakazi joined staff in the endeavour to fill the Food Bank ahead of the second semester, which starts next week. Thanking staff for their contributions Vilakazi said it gives him great pride to lead people who care.
Friendly competition
The Wits community is known for its friendly competitive spirit and eyes are always out for the department that collects the most contributions for the Food Bank.
Pride and team spirit was high as the Registrar's Division, under the leadership of Carol Crosley, hauled their contributions in a trolley. Student Enrolment Centre, the Academic and Information Systems Unit, and the Payroll Office maintained their pre-pandemic record of mobilising noteworthy donations. Of the Parktown campuses, the School of Governance was exemplary.
The event also doubled as a fun team-builder around the University's 100 years of existence. Staff used their contributions to craft a Wits 100 image on a canvass. Participants were also quizzed on Wits facts and milestones and winners walked away with Wits shop vouchers.
Congratulations to: Nodene Sheik (Student Enrolment Centre), Gita Patel (International Office) and staff members from the Central Record Office, the custodians of history who had the upper hand in the quiz - Kgopotso Mohlolo and Molatelo Pampa.