Foundation to rejuvenate democracy in Africa and France
- Wits University
"We must nurture tolerance, collective wisdom, and democracy." – Nelson Mandela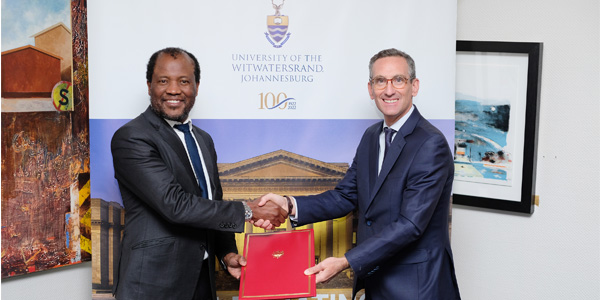 The safeguarding and promotion of democracy in Africa, France and Europe was enhanced this July through the establishment of the Innovation Foundation for Democracy (FIDEMO), which aims to rejuvenate democracy in Africa, particularly amongst young people, through innovative democratic projects.
Globally recognised scholar and public intellectual, Professor Achille Mbembe from the Wits Institute for Economic Research recommended the establishment of the Foundation in a report which he handed to French President Emmanuel Macron at the New Africa-France Summit in Montpellier last year. The report proposed 13 recommendations to recast an equitable relationship between African countries and France, including the creation of FIDEMO.
The objectives of the Foundation are to educate, inform and capacitate young people to reflect on democratic change in Africa, France, and Europe. It further aims to gather new insights and actionable knowledge about democracy across these regions; to design and develop collective and innovative projects for democracy; and to enable an understanding of the roles that the rule of law, equality, individual and collective freedoms play in a democracy.
"It is our hope that the Foundation will become a major continental hub for the new cycle of research and other initiatives which aim to rekindle the democratic agenda on our continent," says Professor Zeblon Vilakazi, the Wits Vice-Chancellor and Principal. "We recognise our collective role in solving global challenges, advancing society, governance and justice, whilst developing the next generation of leaders."
The auspicious occasion was attended by the French Ambassador to South Africa, Lesotho and Malawi, His Excellency Mr Aurélien Lechevallier, and esteemed guests from across the continent who will serve as management or executive committee members of the Foundation.
"Europe and Africa are facing similar challenges, and we are seeing a widening gap between the youth and the political scene," says Ambassador Lechevallier. "There is a growing trend of fake news and the rise of extremists' thoughts and political ideas. We need this Foundation to generate new innovative ideas, to think out of the box, to support successful stories and to ground our findings in strong scientific information."
FIDEMO will be hosted at Wits University from where it will serve the continent. The Foundation will be led by the distinguished Senegalese philosopher and literary scholar, Professor Souleymane Bachir Diagne who will serve as the Committee President; Johannesburg-based Advocate Nicholas J Tee who will serve as the Secretary General; and Lesley Donna Williams, the CEO of the Wits Tshimologong Digital Innovation Precinct, who will serve as the Treasurer.
The establishment of this Foundation is timely and will undoubtedly benefit both continents. It is also significant for Wits, a University known for its values and commitment to democracy. It celebrates its centenary in 2022, and seeks, from its vantage point in the Global South, to establish mutually beneficial relationships with entities in the North.