Industrial Advisory Board appointed to guide Engineering Faculty
- Wits University
The Faculty of Engineering and the Built Environment has established an advisory board with key industry representatives.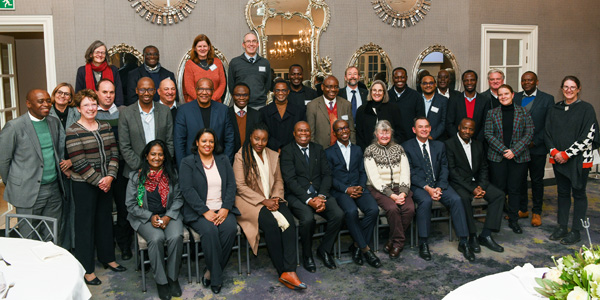 The Faculty hosted the newly formed Faculty Industrial Advisory Board for a two day engagement in June. The board consists of well-respected academics, renowned industry leaders as well as entrepreneurs in the engineering and building sectors.
The main objectives of the board are to advise on strategic matters such as the industrial relevance and suitability of the academic curricula across the Faculty, including suggesting new or modifying courses and degree programmes. They will also provide input on the Faculty's overall strategy, including research, and foster higher levels of industry involvement. Elected for five years, they will meet once a year, assisting Faculty with identifying recent or long-term developments or concerns of industry which are likely to have a significant impact on the Faculty activities. The board will play a pivotal role in exploring ways in which the Faculty can foster a higher level of industry involvement in its degrees and research programmes, as well as to identify and advise on major strategic initiatives, such as the establishment of research centres and fund-raising initiatives. This is aligned to the University's commercialisation and innovation strategy.
Professor Thokozani Majozi, Dean of the Faculty, welcomed the board, noting that the Faculty looks forward to working with this structure in order to ensure that graduates of the Faculty are responsive to industry's needs.
Board Chairperson, Steve Harrison, Platform Chief Executive Officer (CEO) at Murray & Roberts welcomed his appointment and dived straight into the business of the day. He listed key aspects of industry that Wits should be preparing its graduates in, namely leadership skills. He was complementary of the core skills of Wits graduates and emphasised the need for more soft skills.
"The University produces world-class engineering graduates with maths and science skills who will be expected to lead from day one," he said.
Wits alumni and CEO of Nafasi Technologies, Suzie Nkambule will be serving as Deputy Chairperson.
In between the strategic discussions during the meeting, the leaders toured key facilities in the Faculty and interacted with staff members.