Home recognition for Italian Prof
- Wits University
Prof. Maria Marchetti-Mercer has been awarded the Order of the Star of Italy.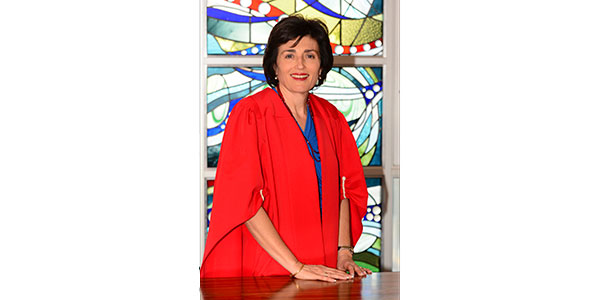 The distinction is awarded by the President of the Republic of Italy to Italians and foreign citizens in recognition of their role in promoting Italy abroad or in promoting friendly relations and co-operation between Italy and their country of residence.
The awards are bestowed annually on Italian National Day, to commemorate the institutional referendum of 1946 (2 June) when Italians were called to take a vote and decide the form of their government after World War II.
Marchetti-Mercer, a lecturer in the Department of Psychology received the honour at the Italian Consulate in Johannesburg.
A family therapist whose research mostly focuses on the emotional aspects of migration, Marchetti-Mercer was born in Italy and arrived in East London with her parents when she was a child. This background has shaped her academic career and helped to build ties with Italy.
"I do think that our personal journeys often shape our research interests and this has definitely been the case for me," she says.
"I came to this country when I was very young and I am aware of the impact that emigration has on families and especially the challenges that emigrant children encounter. This has led me to explore this phenomenon from a psychological perspective especially from the focus of family therapy. More recently I have also looked at second and third generation Italians living in South Africa and their socio-psychological experiences as there has been very little research done in this area."
Maria-Mercer who joined Wits when she was appointed as the Head of the School of Human and Community Development, says she is humbled by the recognition from the land of her birth.
"I am very honoured but also deeply moved by this award".
"I am extremely proud of my Italian roots and still have a strong emotional attachment to Italy. I hope that over the years I have portrayed a positive image of Italy through my professional work and in some small way have contributed towards the positive relationship that exists between Italy and South Africa," she says.
Marchetti-Mercer is collaborating with colleagues to deepen the understanding of Italians in the country. Her latest research examines the experiences of second and third generation Italians living in South Africa. She, together with Dr Anita Virga from the Italian Studies Department at Wits are finalising a book on this research project which is due to be finished at the end of the year.