Funding boost for postgrad research into new-age metals
- Wits University
Wits signs research agreement with AfriTin Mining to investigate and optimise tech metals processing.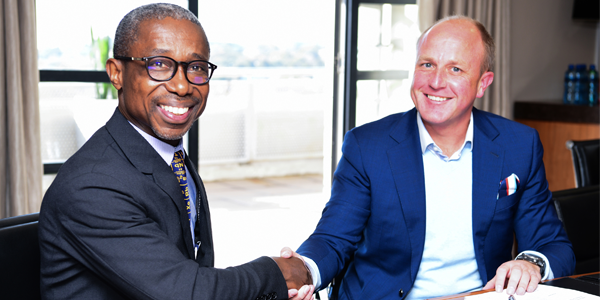 Wits University, through the School of Chemical and Metallurgical Engineering, has signed a research agreement with AfriTin Mining Limited (UK: ATM) to advance the company's mineral extraction capabilities.
The agreement will provide the Minerals and Metals Extraction Research Group in the School with R 7 million in funding over the next five years for postgraduate student research projects.
These projects will look at increasing AfriTin's recovery and optimising processing of tin, tantalum, lithium and other metals in both virgin ores and tailings. These are considered new-age minerals or tech metals and play a key role in the production of today's technologies.
Elaborating on the changes in the minerals sector, the CEO of AfriTin, Anthony Viljoen, says: "Tantalum and lithium are tech metals whose extraction and processing techniques are yet to be advanced. Therefore, this partnership will expand our knowledge base to support our growth strategy. As a mining company, we are committed to sustainably mining metals that are important for the transition to greener technologies."
The funding will give the School the resources to pursue new fields of mineral research conducted in partnership with masters and PhD students.
"Postgraduate students are vital to knowledge production and innovation. We welcome this research partnership as it will enable unique postgraduate research projects and will bring students closer to industry expertise that prepare them for the working world," says Prof. Thokozani Majozi, Dean of the Faculty of Engineering and the Built Environment.
Manager of the research programme, Professor Herman Potgieter says: "The Minerals and Metals Extraction Research Group applies new and novel extraction technologies to the recovery of metals which not only improves yields, but are also more environmentally friendly and sustainable than current hydrometallurgical processes used in industry. While such technologies are very ore specific, the collaboration will focus on establishing their suitability in the AfriTin mining process."
The research will involve work across several domains, including alternative leaching technologies, fluidisation and recovery technologies, chemical and compositional measurements, and selected appropriate modelling technologies such as density functional theory (DFT) and Matlab modelling.
The initial focus will be in assisting AfriTin in developing a process for the optimal recovery and production of high purity tantalum, a metal used in the production of electronic components and steels that have corrosion resistant properties. Future research will look at applying and developing new recovery processes for tin, and using alternative leachants and ligands to develop marketable recovery/extraction technology for components in the tin ore, such as lithium.
"We're excited to have entered into this partnership which forms part of AfriTin's five year growth strategy, during which we plan to expand our current tin production to include lithium and tantalum," continues Viljoen.
"By funding this research, we will benefit from Wits University's expertise for advice, technical reviews and technical evaluations. The company will also have an exclusive option to commercialise intellectual property developed through the agreement."
About 'tech metals' and their uses
Tin's value lies in its variety of applications, including the alloys it forms with other common metals such as copper. It is used in industrial processes such as glass manufacturing, as well as in chemical processes such as lead-acid batteries, coating metal, and as a reducing agent in fabrics.
Tantalum too has varied uses, including its use in capacitors, as an additional alloying element in stainless-steel, as an alternative to platinum in the chemical, electronic and electrical industry, and for alloys used in aerospace applications.
Lithium is a "new tech" metal, seen as crucial for its use in Li-on batteries that are considered necessary to enable the shift to renewable energy. Lithium also has industrial applications such as car manufacturing, and the health industry and pharmaceutical production.
About the University of the Witwatersrand
The University of the Witwatersrand, also known as Wits University, is a research intensive university in Africa, that is celebrating 100 years of academic and research excellence, innovation, and social justice in 2022.
The history of the University is inextricably linked to mining. Wits is home to one of the oldest mining schools in the world, established in 1896 during the gold rush. Located in Johannesburg (South Africa), the economic and industrial heartland of Africa, Wits University is committed to furthering its contribution to delivering high-level scarce skills for the global knowledge economy and building partnerships that will have a positive impact on society.
The Faculty of Engineering and the Built Environment conducts large volumes of contract research for local and international companies, as well as works with the public sector to tackle national problems. The metallurgical engineering part of the School was one of the founding departments (together with the Schools of Mining Engineering and Geosciences) of the University when it was first established as the South African School of Mines in 1904.
About AfriTin Mining
AfriTin Mining Limited is a London-listed tech-metals mining company with a vision to create a portfolio of globally significant, conflict-free, producing assets. The company's flagship asset is the Uis Tin Mine in Namibia, formerly the world's largest hard-rock open cast tin mine.
The company strives to capitalise on the solid supply/demand fundamentals of tin and lithium by developing a critical mass of resource inventory, achieving production in the near-term and further scaling production by consolidating assets in Africa.